Looks like Facebook is eagerly planning to step into the banking sector. Earlier it launched Payment through its Messenger. With Facebook Messenger, users can send money to their friends. Facebook is also working on its own cryptocurrency Libra. Libra will have its own value. It will be accepted worldwide. Yesterday facebook revealed Facebook Pay. With Facebook Pay, Users can send money or make a payment from any of Facebook-owned applications: Facebook, Messenger, Instagram, and WhatsApp.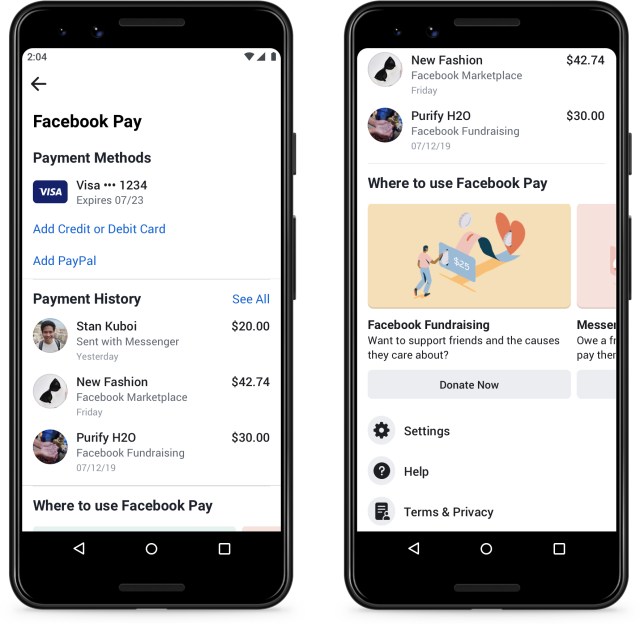 Users can set up Facebook Pay app-by-app or they can choose to set it up for use across apps. For now, this new feature is only available in the US. The company says facebook Pay will accept most major credit cards, including Visa and Mastercard. Users can also add a Paypal wallet for payments. Facebook writes in its blog "You can also choose to add a PIN or use your device biometrics, such as touch or face ID recognition, to add an extra layer of security when sending money or making a payment. Facebook will not receive or store your device's biometric information. "
The Facebook PAy app will collect payment information such as the payment method, transaction date, billing, shipping and contact details. The information will be used only for advertisements. For example, if you buy a baseball glove on Facebook Marketplace, you might see an ad for a baseball bat. Facebook will not collect any personal information such as bank details or passwords for advertisements. Facebook assures everyone that every purchase made via Facebook Pay will be private. The company will not share transactions with their friends.