Australia, India's strategic defense partner in the Indo-Pacific region is eyeing closer trade ties with Asia's giant economy, India. Its escalating tensions with Beijing have propelled a push to increase its trade links with India. It is to be noted that new enrollments of international students from India expanded 32% in 2019.
Thus, India is proving itself to be Australia's fastest growing market, for its services after its economic spat with china. Reportedly, India has also overtaken China as the largest source of net migration to Australia, and its diaspora, currently, is the third largest, right behind China and the UK.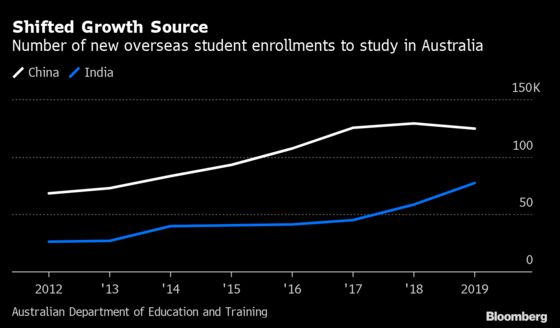 Australia is keen on expanding its relations beyond defense and is in dialogue with New Delhi to enter into trade agreements to boost its mining and wine sector. China had always been Australia's biggest importer of the commodities of its key sectors. But after a trade war with China, Australia now in search for a new, vast market, eyes another economic giant in the region, India.
The need to switch sides and agreement comes, as the ties between Australia and china were severed due the COVID-19 origin discrepancy investigations against China were being sought after by Australia.
Canberra's calls for an international inquiry into Covid-19's origins was taken by Beijing as an uncharacteristic political attack, leading China to impose barriers on barley, beef and wine from Down Under. Additionally, resilient supply chain initiative by India, Australia and Japan had only added to the list of grievances of China, which in return banned imports of Australian coal.
It has been projected that India's swelling population is set to overtake China's in 2027. This suggests new opportunities for Australia to diversify its trade portfolio that currently makes it the developed world's most China-dependent economy in the region. Australia is trying to woo India to fill the vacuum created by its long-lost vindictive partner China.
Companies including Coal India Limited are currently involved in talks with Australian authorities. Indian companies are being encouraged to invest in exploration and mining of key minerals like coal and iron ore.
In June, Prime Minister Scott Morrison held a virtual summit with his Indian counterpart Narendra Modi and the two signed a defense agreement and upgraded ties to a Comprehensive Strategic Partnership.
The trade ministers of Japan, India and Australia had recently agreed to work towards achieving supply chain resilience, "We can sell India education, health care, and there's potential in science and technology," said Ian Hall, a professor of international relations at Griffith University in Queensland. "It's much more the consumer market of India's growing middle class than goods."