Indian Trade Deficit swells adhering to shrink in exports and GDP. Government of India unites ASEAN nation to reverse Trade deficit figures.
After reducing for three months, the pace of contraction of India's exports rose in August. Export earnings in the month declined by 12.6 per cent year on year, higher than July's 10.2 per cent fall, as trade in major foreign exchange earners such as petroleum, gems, electronics, and textiles continued to take a hit. Outbound trade stood at $22.7 billion, completing six straight months of contraction.
Earlier, the government had been hoping to reach a single-digit contraction by August, with a tentative growth forecast for September.
The data for August, released by the commerce department on Tuesday, shows cumulative exports in the first five months of the financial year fell 26.65 per cent compared to the same period in the previous year.
From 21st September, the Customs will be keeping a close watch on the imports of items like mobile phones, white goods, set-top boxes, cameras and other electronic products under Free Trade Agreement (FTA). A senior Finance Ministry official told Times Now that a new verification mechanism has been prepared and will even apply on imports items like Agarbattis.
FTAs are expected to be mutually beneficial to all partner countries. However, the Government has found that in the case of ASEAN countries, the merchandise trade gap has risen from 5 billion dollars in 2010 to more than 22 billion dollars now. This ballooning of trade deficit has become a serious cause of concern for the NDA Govt.
If you are a person with a background of Business and Finance you may have heard the term trade deficit. So let's first understand what is trade deficit. Basically the trade deficit is the amount by which the cost of countries imports exceed the value of its export. Now let me simplify what I mean in a layman's term trade deficit means a country is buying more goods and services than selling.
Before the independence and even after the independence, India has remained an agricultural country. In 2017 India's agricultural sector was accountable for countries forty-four point five two percent of employment. In 2018 India's agricultural sector was accountable for country's forty-three point eight six percent of employment. In 2019 the number is forty-three point two one percent as per the data this sector gives employment to millions of people in India. That is more than 40 percent.
Now what if we compare with the world average? If we compare the world average in 2019 the average employment percentage in agricultural sector is twenty-five point six two percent.
So we can see a huge difference from the world average and India. So let's understand what are the consequences we can face because of a large number of workforce is being employed by a single sector.
Before 2014 India has never focused on increasing manufacturing plants most of the consumer goods are being imported from the countries like China USA Bangladesh and Vietnam. What that means is our country is heavily dependent on other nations because India has not progressed that much to manufacture and produce goods for such large market for such large market.
While the population it is 1.3 billion people to increase the manufacturing activity and production activity Government of India has been taking initiatives to invite multinational companies and set up their manufacturing plants. This initiative is somehow successful as India has become the second largest exporter of smartphones in the world.
However, there is still miles to go because of Not having enough manufacturing facility. India biased goods from the United States and China in billions of dollars. That is why we can say the trade deficit of India is very high we buy more from the United States and China and we sell less to them.
At the backdrop of the talks between Prime Minister Modi and Chinese President Xi Jinping, what is the kind of trade deficit that we have with China right now and what are the broad concerns around that. So China including Hong Kong the trade deficit is about 52 billion dollars and that that seems to be growing.
In fact, it hasn't. India's trade deficit with China is growing almost proportionately with the amount of trade that trade value that it's going there bilaterally between the two countries and that that has been a concern for years.
Now how do we how do we actually reverse this or at least you know turn while it will be it may not be you know it may not be possible to achieve a trade surplus with China. In the immediate future or in the foreseeable future at least we can the policymakers have been looking for ways and means to ensure that this trade deficit doesn't wide and further and progressively bring it down.
The negotiation that is currently going on for a comprehensive regional comprehensive economic partnership agreement watching what is commonly now called as they are SEP deal of 16 nations of which China is one of the countries that is negotiating for this comprehensive partnership agreement. The whole thing is that if we of all the 16 nations that are negotiating the are sceptre agreement with China alone.
We have a fifty-two-billion-dollar trade deficit and all these countries combined the trade deficits are about one hundred and two billion dollars. So of 102 more than half of it is accounted for by china. That is why India is now trying to find out whether within our sub deal if India and china can work out a separate protocol.
Absolutely now to understand what has actually gone wrong you say that their deficit has been going for a long time now.  China as we know is the world's manufacturing what is the world's factory as it was so it's exposed to all it has cracked the code on you know a very cost-effective manufacturing and to that extent India is also a very large market for Chinese product. In fact, we can see with Diwali just around the corner most of the lights that will light up homes across the country will probably be would have been brought in imported from China.
They are being implementing up the kind of products that have actually gotten to the Indian market not because that India is not producing this but China has managed to come out with a very cost-effective solution of these kind of products which a must mass consumed.
In Indian apart from mass consume products there is also a problem in intermediate and secondary products like say steel for instance. So there is a big worry that if India brings down under our SEP agreement, if we bring down the tariffs, import tariffs on steel in secondary steel from China and also primary steel from China could actually flood the Indian market and that could adversely affect the domestic industry.
That is something which is a growing concern and that could be one of the key sticking points that could delay in our SEP deal absolutely. But what has been also agreed between China and India. Right now, both the countries are willing to form a joint panel which will actually look at the trade concerns that are currently persisting at the backdrop of this are submitting which has ended by putting the onus on India to resolve this issue bilaterally with all the countries of ASEAN.
What is the way forward so that is a one big step forward between the two countries trade as we know is it has been a key sticking point? I mean there are the sticking points in there in the geostrategic space but so far as in the broader strategic frame of trade also occupies is also a big piece of that strategic frame.
Iron out the rough edges on the trade front the strategic framework cannot you know move to the next level and in progress of the strategic framework all the strategic relations between the world's two most populous nations who happen to be the neighbour.
Now happened also to be neighbours is something that we will have to critically depend on far happier trade relations and for that India has to find a way out of ensuring that domestic interests are completely ring-fence while bringing down tariffs for Chinese.
But as for Chinese manufacturers in days one huge market that they cannot ignore. For India the risk is that this market should not turn into India should not turn into a complete you know importer of cheap are all cost-effective manufactured and manufactured products from China.
So it's a very fine segment that you know as a fine balancing act at Indian trade negotiator have to work out because as I said it is a large part. It's a very strong part of the larger strategic relations and the framework under which India and China have taken progressively over the last ten years or so.
Will China come to conclude on the trade deficit concerns that India has with China and also only 80 percent of the products where it was really asked of India to reduce the import duties on Chinese products as well. So there is a fine balancing act that India will need to do and we have to just keep an eye out.
India and China trade number so we will see around last 20 years' history what exactly happened how this particular equation got changed and now when the numbers were reversing so we are seeing some kind of differences at the border so we need to see these numbers properly.
In the financial year 2000 the trade deficit with China was almost zero there was no trade deficit actually but last financial year that is financial year 2020, the total trade deficit with China was forty-eight point six billion dollars one point seven percent of Indian GDP number.
So this is huge in last 20 years from zero to forty-eight point six billion dollar is a big jump for China but for us this is not a very positive sign. Now in FY 2001 boating in that year the total imports whatever total imports out of them 2.6 percent imports were from China.
But now in FY 2020 this number is 14 percent of all imports or total imports so whatever we are importing from the all over world, out of that 14 percent is from China. This is huge. 65 billion dollars is the figure for last year's imports. It's not a small amount so it means when the trade deficit is forty-eight point six billion dollar – the amount of exports we were making last year financial year 2020 was sixteen point six billion dollars.
There is one silver lining though in financial year 2017-18. The total imports from China as a percentage of all imports was sixteen point four percent so at least from financial year 2018.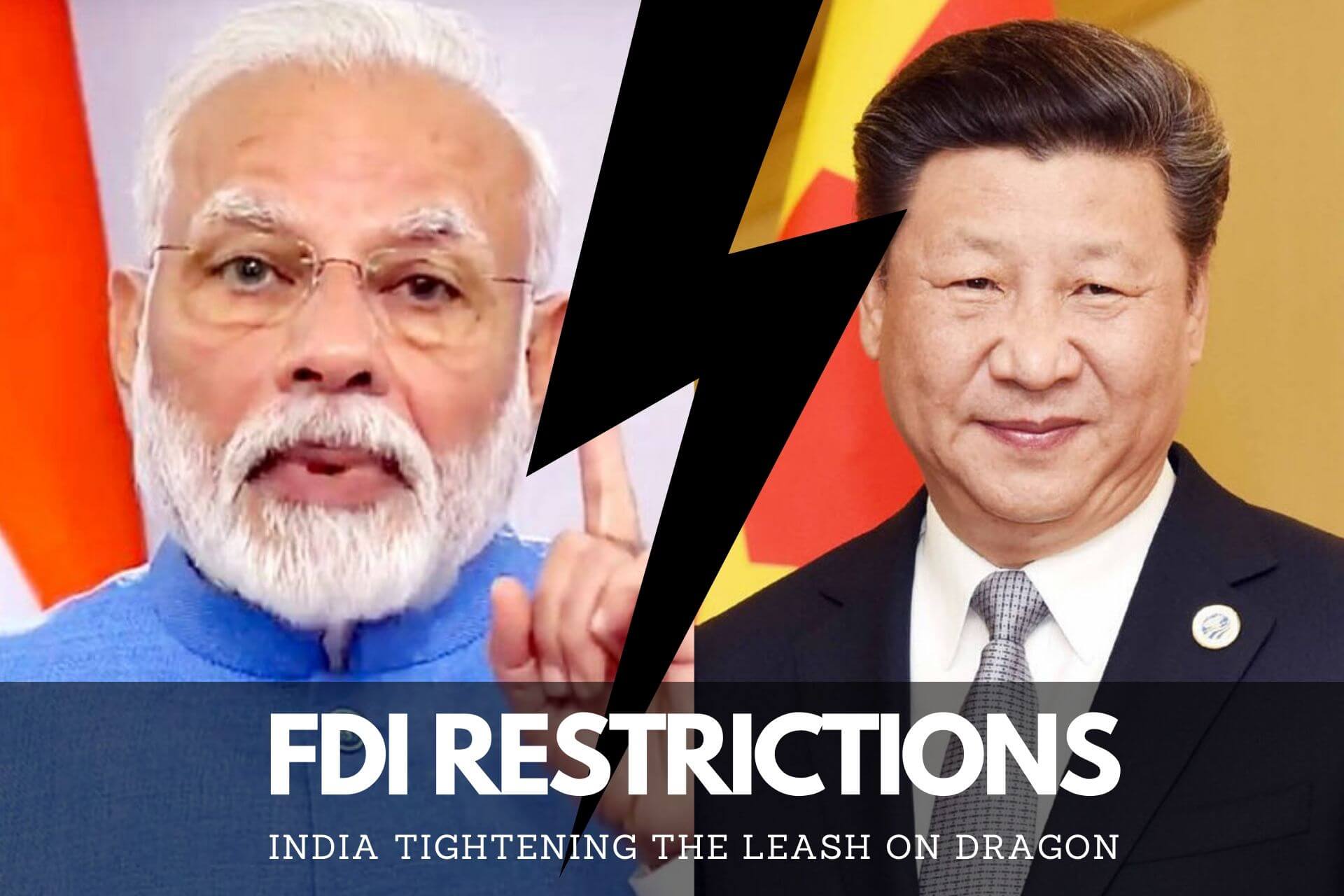 We have started seeing the number going down from sixteen point four percent of all imports in financial year 2018 to 14 percent of all imports in financial year 2020. So this is a positive sign, at least we were seeing some kind of actions from government specifically in sectors like commodity like steel industry or tire industry.
A lot of actions were taken by Government of India- they have increased the import duties and that's why we have seen the numbers going down sixteen point four percent to 14 percent of all imports. That was a positive sign now in financial year 2020, the total exports from India to China were sixteen point six billion dollars.
Whatever AG we are exporting to hold word out of that five point three percent was going to China. When we are importing water from China 14% of all imports are from China but when we are exporting to China five point three percent of the total exports are going to China. This particular number is not that positive and that's why the trade deficit here is at forty-eight point six billion dollar which is one point seven percent of last year's GDP.
Now if we look at FY 16 numbers for the exports so total exports whatever we were exporting to all over world out of that three point four percent was going to China. It means in last four years we were trying to improve our export numbers with China from three point four percent of all exports to five point three percent of the all exports.
That was a positive sign so now if we are seeing that now to buy China was importing sorry exporting a lot of things to India but they were not generating jobs and how we can see these numbers. We will have to look at the foreign direct investment which is a long term money which comes into economies. FDI inflow if we look at so total empty close in last 20 years since financial year 2002 financial year 2020 so total FDI inflow was 470 point 1 billion dollar four hundred and seventy billion dollars total FDI.
We have seen in India in last 20 years but out of which hardly 2.4-billion-dollar money came from China so this shows the long-term commitment of the capital commitment is not coming in India from China. That is not a very positive sign the kind of trade deficits we are seeing every year.
We are sending around 48 billion dollars at least last year's numbers if we are looking at so forty-eight point six billion dollars of trade deficit in LA. Also in last 20 years how much China has invested in India for the long-term capital for if we look at the is hardly 2.4 billion dollars.
These shows there is no commitment from China side. Why do we need FDI? We need FDI because that money is a long term money which our economy receives. And from that money we generate lot of jobs manufacturing plants get built and all those things.
That is a very positive sign for country like India but China is not doing that so whatever we a re doing we are importing the finished products from China or at least whatever raw materials we are importing.
That we are using to manufacture or assemble here so which is not very high skilled job and it will not pay or it will not generate too many jobs, that is the plain point we are having currently and this should be addressed.
At least whatever Government of India currently saying of Aatma-Nirbhar Bharat that is self-reliant India is very positive sign. We are not saying we are against any foreign company or foreign money coming into India. What we are saying is definitely you are most welcome to come to India but you will have to manufacture here. You will have to create jobs. You will have to support our economy.
You just can't take our money out of India and enjoy that stake holding a feeling should be there with these companies and that is very much required in today's world.
Definitely there will be some sectors which will be impacted because of this specifically if we look at these sectors which will be impacted by these import duty majors if government of India takes them. First sector would be auto sector a lot of manufacturing or components are they are making the companies are making in China and they are exporting to India.
Particular one sector at least 27 to 30 % dependencies on China so it will be impacted. Number-two sector would be consumer durables so consumer durables make companies like how else Crompton Greaves and Voltas and all those things so those companies can get impacted because of this particular thing. Then other industry 60 % to 70 % of the raw material for pharma industries come from China and this is a big dependency on China.
Definitely these companies are going to be impacted in coming quarters if those import duties or the relationships deteriorate from these levels. Now the fourth industries telecom industry. A lot of telecom network equipment's are imported from China so definitely companies like Vodafone or Bharti Airtel will be impacted by the these things.
At least realize that we are not that impacted because there is hardly an exposure to China in network equipment space. Now the fifth sector is chemical and agro chemicals so here also lot of a raw material is getting imported from China.
There will be have seen there is a there was a secular bull run in chemical and agro chemical company's stocks. In last two three years majorly because a lot of production in China was impacted because they applied for blue sky policy where those industries which were polluting the environment were banned.
That's why lot of team came to India and our Indian chemical or speciality chemical industry got flourished. But they are still making the raw material they are importing the raw material but actual production and all those things were happening in India. So this particular industry will be impacted definitely.
There are two more industries which is electronics and toy industries those will also be impacted. But I think for those industries in India there should be some replacement hopefully we have some company's different technologies or enterprises those will be benefited a lot by these things.