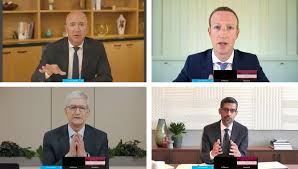 Congress expected to hold the hearings with tech giants and the titans of their respective industries. With the COViD-19 pandemic, they were informed to testify via Cisco WebEx conferencing software.
House committees have held more than 80 hearings, since the break of the pandemic, over video conferencing. With the guidance of the attending physician, the congressmen were advised to wear masks at all times except for when they were speaking.
The antitrust hearing is an important event for all the companies, with politicians grilling them. The main objective is to check whether any of the companies have become "too big and powerful". With the business model of each company being different, lawmakers should also have a different strategy for each of the four companies.
Facebook
Facebook is the world's largest social networking company with a net worth of $528 billion. The company generates revenue on digital add selling. With very few competitors in the market, Facebook enjoys its dominance. Once in a previous hearing when Sen. Lindsey O. Graham (R-S. C.) asked Zuckerberg to name a competitor, he could not name one.
Mark Zuckerberg, chief executive of Facebook, is testifying before Congress for the fourth time in the last two years. In 2018, the first testified on his company's mishandling of user data in case of the Cambridge Analytica privacy scandal. In 2019, he was asked to testify over his company's plans to launch a cryptocurrency. Today, the company plans for emphasizing its support to connect people during the ongoing pandemic.
Amazon
Amazon boasts the status of being the largest online marketplace in America. 70% of all online marketplace sales occur through Amazon. The company that has a huge range of businesses, from cloud computing to movie production, is one of the most profitable companies around the globe with a market value of one and a half-trillion dollars.
Jeff Bezos, who currently holds the number one spot in the Forbes richest individual, leads Amazon. He holds a net worth of $113 billion. This is the first time that Bezos will be testifying before Congress.
Apple
Apple is a dominant producer of smartphones and the second-largest company in the world, second to Saudi Aramco. With more than a hundred million users of iPhones in only America, the company has a market capitalization of $1.6 trillion.
Tim Cook, CEO of Apple, is one of the most successful leaders of not only America but also globally. He single-handedly brought the company's m-cap from less than $400 billion to $1.6 trillion.
Though there has been a decline in iPhone sales, the company reported a profit of $56 billion in the first quarter of the fiscal year. Apple intends to keep its dominance in the smartphone industry and extend to join new markets such as healthcare as they have already started a clinical trial industry. With sensors in devices such as Apple Watch, that tracks different aspects of millions of people, the data could be valuable for medical research turning into huge profits for the company.
Google
Google is the largest online search engine with more than 90% of all online searches occurring through Google. Their CEO, Sundar Pichai, is not unfamiliar with testifying before the Congress. Since 2018, there have been several allegations against the company, where every time the soft-spoken CEO has coolly defended his company's case.
Sundar Pichai has been working for Google for more than 15 years. In 2015, he was made the CEO of the company, and last year he was made the CEO of Alphabet.
With a large list of charges pressed against the companies, we will try to produce a brief, comprehensive report of how the hearing unfolded:
10:36 pm IST: The CEOs of the most renowned companies take their stage or rather their screens ready to defend their respective company.
The chairman of the House Judiciary antitrust committee, David N. Cicilline, commenced the hearing. He said, "Nor should we bow before the emperors of the online economy" comparing the titans as kings who hold monopolies in the industry.
Cicilline also said that the companies being digital will only gain from the ongoing pandemic and warned that they will emerge stronger post this crisis.
He also alerted us that having control of the marketplace, the platforms can exploit this power. They could charge exorbitant fees, impose oppressive contracts, or extract valuable data from the common people and businesses that relied on them.
He also remarked that through self-preferencing, predatory pricing, or requiring users to buy additional products, the companies have wielded their power in destructive, harmful ways to expand. The companies also use their power and position to watch over other companies and kill potential rivals, according to the chairman.
Facebook is a monopoly?
The Federal Trade Commission is currently investigating whether Facebook is a monopoly in the market. The case for Facebook complicates as the service comes free of cost. Generally, monopolies tend to charge higher fees from the consumer. The company has acquired Instagram in 2012 and WhatsApp in 2014. With 2.9 billion monthly users, the company has a unique business and marketing style. Though the critics say that the company should be closely regulated as it can easily "manipulated the flow of information between publishers and citizens".
Facebook, however, argues that it has competitors. The companies like tik-tok, YouTube have as many users and in the case of digital adds market, it has a duopoly with Google.
But saying all that, Facebook can drop stock prices of smaller companies as we have previously seen in the case of Snapchat.
Tech and conservative-bias
Republican lawmakers changed their focus to bias against conservatives. Rep. Jim Jordan (Ohio), the Judiciary Committee's top Republican, said in his opening remarks, "Big tech is out to get conservatives."
He went on to accuse Google of censoring Breitbart and Amazon of suspending Donald Trump's account from their video streaming service Twitch which was again restored. Amazon, however, has said it had temporarily halted Trump 2020 Campaign account for violation of policies and hateful conduct. Jordan then went on threatening the digital giants that they will have to face consequences if their bias against conservatives does not stop.
Amazon does the right thing
Jeff Bezos started his opening statement by saying that consumers press Amazon to do what's best for them. Bezos said, "Customer obsession has driven our success, and I take it as an article of faith. The customers notice when you do the right thing. You earn trust slowly over time by doing hard things well, delivering on time, offering everyday low prices, making promises and keeping them, and making principled decisions even when they are unpopular."
He went on to talk about his and his company's success over the years and all that have come from the love and affection that its consumers have shown for them. Bezos also said that though they have faults and problems the rest of the world would love to have even the tiniest bit of what they have in the US.
Google's size benefits its users
Google CEO, Sundar Pichai, started with a remembrance for the late congressman John Lewis, who passed away this month. He then took us on a tour of his childhood days in India and how
he was moved when he was exposed to technology when he got to the US.
He said that the company is focused on giving people opportunities and exposure to technology. Though there are concerns of not only the lawmakers of the US but also the EU about what the size of Google means for its competitors and if it is too big a company, Google claimed that it is beneficial to its consumers.
Apple is not dominant in smartphones
Tim Cook, for the opening statement, followed his testimony that he posted on Tuesday night. He said that Apple is not a monopoly. According to the CEO of Google Android, owned by Google, is a much popular operating system and is dominant in the smartphone industry.
Any Apple product user can tell you about the "apple-tax" that the company needs you to pay to use its products. App Store forces the consumers to play by Apple's rules and the company has its ways of making back the money that goes down in sales by other means.
Google crushes its competitors
Cicilline directed his first-round questioning towards the CEO of Google intending to call out its dominance in the industry. He put out allegations against the company by saying that they "steal" content from many small websites. However, Google CEO softly disagreed with the characterization of the statement.
Cicilline then went on to say that Google has put up a "walled barrier" where they put information that they gather from other websites to engage more traffic on their website. To this Pichai replied that they only post what they think is relevant to its users.
Cicilline also put up allegations that the tech giant abused its power by crushing any competitor that has emerged within the timeframe which has "dampened innovations and new business growth".
Instagram bought by Facebook are the type of acquisition antitrust laws were designed for
The lawmakers did not hesitate to grill Zukerberg from the start. Commenting on Facebook's decision to buy it's competition Instagram back in 2012 Rep. Jerry Nadler (D-N.Y.) said was "exactly the type of acquisition that antitrust laws were designed to prevent."
He also said that it is evident from the produced documents that the intention behind buying the company was to "neutralize competition".
Though the business tactics are much common in Silicon Valley, the question remains that is the practice harmfully anti-competitive.
A video involving a doctor who publicized miss information about anti-malaria drug Hydroxychloroquine also came up as the top Republican on the committee, Rep F. James Sensenbrenner Jr. (Wis.), questioned Zuckerberg. He asked if the company has censored Trump. Zuckerberg replied that the video was posted on twitter and not on Facebook.
The antitrust hearing getting sidetracked
Both Republicans and Democrats are sidestepping from the main topic of the hearing. They are using their allotted time to bring up other controversial issues like their ties with China.
In a round of questioning, Rep. Jamie B. Raskin (D-Md.), asked Zukerberg, what the company did to stop the circulation of misinformation. He also questioned the recent ad boycotts.
Google CEO, Sundar Pichai was asked by Republican lawmakers about the company's ties with China and their contracts with the USA. Pichai informed the congressmen again that they were not working with the Chinese Military.
Pichai, when accused by Rep. Matt Gaetz (R-Fla.) about pulling out of Project Maven because many employees did not want Google to be a part of drone warfare, said that the company took into account many factors and one of the most important was the employee feedback. He also reminded the courthouse that there are many projects in which Google is collaborating with the US government.
With little or no evidence, allegations of these companies being socially and politically biased came up, which they denied.
Google cares about user privacy.
The CEO of the search engine informed that Google is in assent with Europe's General Data Protection Regulation (GDPR) privacy law.
As Rep. Kelly Armstrong (R-N. D.) questioned him of data privacy, Pichai said that his company cares about user privacy and security.
Concerning the main antitrust investigation against Google, they said that advertising cost has fallen as they are helping to increase competition.
Bezos "not sure" if Amazon has used proprietary data
Jeff Bezos told Congress that he could not confirm that their firm did not use any user data that they collected to launch their line of products. Bezos was questioned after two hours since the start of the hearing. Rep. Pramila Jayapal (D-Wash.), who represents Seattle, workplace of several Amazon employees, asked if their company uses third party user data to make business decisions.
To this, the current richest man in the world replied, "What I can tell you is we have a policy against using seller-specific data to aid our private label business, but I can't guarantee you that policy has never been violated."
With Jayapal pressing harder on the matter, Bezos informed that they are looking carefully into the matter. The congresswoman reminded the CEO about the statement, previously an attorney of his company testified that they did not use such data and they are concerned that the data far exceeds the sellers on their platforms with whom they compete.
Google collects too much data
Sundar Pichai was questioned about combining user data with the data collected from the company DoubleClick, which was bought by Google in 2007. Google who previously said that they would not collect data has repeated the same in 2016.
After confirmation of the fact, from the CEO himself, that he signs off all the company's decision including that of data combining, Rep. Val Demings (D-Fla.) said, "Practically, this decision meant that your company would now combine all of my data on Google, my search history, my information from Google maps, information from my email, my Gmail, as well as my identity with the record of almost all of the websites I visited. That is staggering."
All developers are treated indifferently by Apple
When questioned by Rep. Hank Johnson (D-Ga.), about the company treating some of the developers differently, Cook denied the allegation. He also said that he was unaware of the brought up allegation that his company assigned two employees specifically to assist Baidu, the Google of China to navigate the red tape and bureaucracy of the AppStore.
Cook neither denied nor addressed the questions about his company collecting data from Apple payments. He also sidestepped claims of uneven AppStore rules, which has been a constant complaint from Apple application developers. Though he denied any accusations made against his company of retaliating against developers or bulling personnel who have disagreements with them.
Skillful interruptions by lawmakers to derail the chief executives
Though not in court the lawmakers skillfully interrupted the CEOs multiple times while they were providing their statements. The congressmen and congresswomen mainly halted their statements to provide a view from their perspective or to grill them, adding multiple questions or acquisitions with their original allegation.
Pichai asked to defend again against the conservative-bias acquisition
Rep. Greg Steube (R-Fla.) said to Pichai that when earlier this week he could not find any conservative news sites when he Googled them. But on Wednesday he was able to get hold of them. He threw out the allegation that this is because Google fixed the issue before testifying.
Pichai, defending his company said that they approach their task with great responsibility in a nonpartisan way. He also informed that there is nothing in the algorithm that would make it politically biased.
Amazon can withstand long droughts of losses
Amazon was addressed saying that they have the financial capacity to withstand long periods of losses and defeat competitors who fade away during those times.
Bringing up the acquisition of Quidsi, Rep. Mary Gay Scanlon (D-Pa.) said that plans have been uncovered of Amazon's aim "to bleed over $200 million in diaper profit losses" to weaken Quidsi. The company then successfully bought Quidsi in 2010 for $500 million.
Bezos however, said that he could not remember as the mentioned incident was far back in time. Scanlon pressed on saying that these incidents create a monopoly that drives up prices and is unhelpful for many customers. Bezos replied that the allegation isn't correct as the diaper is a pretty easily available object "found in many, many places."
Revealed emails show Zukerberg's plan to buy Google
Lawmakers kept on grilling Zukerberg with allegations. Rep. Joe Neguse (D-Colo.) questioned him about his plans of buying Google and described the strategy as "a land grab"
CEO produced his mindset and views and the conversation was pretty engaging. Zuckerberg, however, said that the email which said he plans to acquire Google was probably a joke.
However, the congressman replied that he did not think that it was a joke, and some social networking sites, like MySpace, which were available a decade ago now no longer exist. This also shows the ultra-competitive monopoly based mindset of Facebook. Zuckerberg this replied that the landscape was very competitive which caused them to fade away.
Bezos pressed
Congressman Cicilline and congresswoman Rep. Lucy McBath (D-Ga.) asked the CEO of his company's ability to compete with third-party retailers that sell in their company.
They accuse Amazon of "poaching up" the best selling products that drive many small merchants into the grounds. Bezos completely disagreed with these allegations.
Not yet time to change antitrust laws
Rep. F. James Sensenbrenner Jr.  (R-Wis.), the top republican commented that he does not think it is time to change the antitrust laws of the state, but should pay close attention to whether the regulations are being enforced effectively.
These comments highlight a partisan emerging in the investigation.
Zuckerberg caught in the act
While in a previous statement Zukerberg sidestepped a direct question of whether he copied his competitors, Jayapal produced emails and records showing that he was building a copycat camera service. The email was sent to the founder of Instagram in 2012.
Zuckerberg could not recall the aforementioned conversion.
The panel also accused Facebook of surveilling its rivals. While others sidestepped attacks from Rep. Greg Steube (R-Fla.), Zukerberg took on his questions.
When he was asked if the Chinese Government steals from the US, he said, "I think it's well documented that the Chinese government steals technology from U.S. Companies."
Wrongful use of Amazon's financial capability
Rep. Ken Buck (R-Colo.) also said that Amazon uses its financial ability to sidetrack its rivals and third-party merchants.
He said that there have been numerous complaints against the company that they meet startups to discuss funding and later create their products ripping off the ideas it receives.
Previously in Buck's district, a company named PopSockets accused the Bezos' company of creating counterfeit products that appeared higher on sales in the market place.
Many other congressmen and congresswomen went on grilling Amazon and their business style with hard extensive evidence. Cicilline, the chair of the House of the Judiciary antitrust committee produced evidence wherein internal conversations the employees denoted third-party sellers as "competitors" of the company and not "partners".
Also, a charge made by a bookseller denoted that Amazon's restrictive business policy put her business in jeopardy.
Amazon Counterfeits?
Congresswoman Jayapal brought up in conversations with former employees that tells that the company uses data from third-party sellers to make its products. Bezos, however, says that the company's investigation of the matter is ongoing.
Coming under more questioning Bezos confirms that Amazon promotes its products over rivals. Bezos said, "I'm sure there are cases where we do promote our products. There's a course of common practice in business. And so it wouldn't surprise me if Alexis sometimes does promote our products."
Bezos also suggested to the Congress that they should tighten the law to stop counterfeit products. He also said that the counterfeit gains are short term as a person receiving counterfeit products would be discouraged and might not again shop at Amazon. He added, "I would much rather lose a sale than lose a customer."
Bezos also agreed to provide the committee with internal investigation data.
Apple did not profit from the pandemic
While being accused of profiteering from the ongoing pandemic, Apple CEO denied the claims, saying that they would never do that. Cook also said they were working with multiple companies to find solutions to the pandemic.
Regarding the emailing application "Hey", Nadler accused them of changing the way it enforces the policies to extract more profit. Cook denied alteration of any policy or behavior. Although he added that Apple might have made some mistakes in the past due to a high number of apps that are submitted to their store.
In reply to Neguse, Cook said that Apple cannot steal apps as it cannot steal anybody's IP. However, the practice of stealing third-party apps is quite common with Apple. It even has a name: "Sherlocking".
Pichai is unaware of the Google ad – share
In replying to Jayapal on Google advertising system the CEO of Google said he is not exactly familiar with what it is though he has seen many reports. Jayapal went on pointing out how Google makes a profit from both sell-side and buy-side of the advertising system.
Cicilline accuses all four
Cicilline, the chairperson, accused all four of the titans to be a monopoly in their respective industries. He also added that all of them need to be regulated.
He said, "Their control of the marketplace allows them to do whatever it takes to crush independent businesses and expand their power."
Our Take:
The virtual hearing had its ups and downs. At the starting when all four CEOs raised their hands to be sworn in, we could find that the lips weren't syncing with the sounds.
At a certain point, while Bezos was answering on the US-Chinese controversy, his sound was silent. The Congressmen reminded him, "Mr. Bezos, I believe you're on mute."
With the fast pace of the lawmakers, the CEOs had problems interfering with them even when there was no delay in the audio.
Technology, that has made them into giants, today they looked more human. Everyone tried to prove that their company isn't the best and more powerful than others.
The panel asked Zuckerberg the most numbers of questions. The number of questions being 62. The congress asked Tim Cook the least number of questions.