Samsung launches a 'wind-free' AC with PM 1.0 filtration capacity in India.
Samsung are one of the old players in the AC market in India. Not only AC but in general electronics. And now their new AC is hitting the market. This AC can filter dust particles up to 0.3 microns in size and also sterilize viruses and bacteria using an electrostatic charger, providing the cleanest and purest air in your homes and offices.
These AC's are obviously Wi-Fi enabled. There are three different types of filters named Deodorization filter, Pre Filter, and the new PM 1.0 Filter.
The Deodorization filter eliminates unpleasant odors, PM 1.0 Filter has an electrostatic charger to capture and sterilize ultra-fine dust up to 0.3 microns. Pre-Filter tackles large dust particles.
Now talking about the 'Wind-Free' cooling technology. This tech will basically provide you effective cooling experience without any sensation of cold or harsh air blowing directly onto your skin. The Wind-Free cooling's advanced airflow cools the room faster.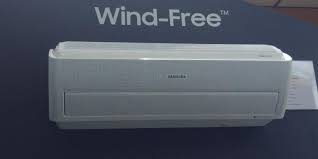 The PM 1.0 Filter and the Wind-Free tech are the main attracting point of this new AC by Samsung.
Talking about variants and availability this AC comes in three variants. 1-Way Cassette for unilateral airflow, 4-way Cassette for air-flow in 4 directions, and 360 Cassette for Omni-directional airflow.
This AC will be priced around Rs90,000+GST. This the starting price range. These AC are available across offline retail and online channels.