In education systems across the globe, from primary to higher education learning institutions, there is one constant subject, a language universally spoken: mathematics.
A basic definition of mathematics (or maths, or math, depending on where you are in the world) is that it is an education in numeric sciences, using a range of different approaches including algebra, calculus and basic arithmetic. While mathematics is a key element of subjects ranging from economics to physics, maths as a university subject often focuses on understanding and testing theories in mathematical and scientific discourse – or so-called "pure mathematics".
B.Sc
B.Sc Mathematics is an undergraduate academic degree awarded to those who successfully complete a program in mathematics and related disciplines such as statistics or computer science. The syllabus of B.Sc Mathematics focusses on developing mathematical skills in algebra, calculus and data analysis.
B.Sc. Mathematics is the study of quantity, structure, space, and change. A Bachelor of Science degree in Mathematics is a culmination of in-depth knowledge of geometry, trigonometry, calculus, and other theories. It also explores related topics like Computer Science and Statistics. This degree course helps students in building a good foundation base for pursuing higher studies.
B.Sc. Mathematics graduates can follow the teaching profession by teaching in schools or opening their own coaching classes. B.Sc maths degree holders are also required in Banking and Business services, Government Jobs, Investment and Insurance among many other employment areas.
For admission to the course, most institutes and universities in the country follow a merit-based admission process. Marks scored by applicants at the Higher Secondary level and/ or relevant entrance test are taken into consideration. Seats are accordingly allotted to deserving candidates.
Degree holders in Mathematics are respected for their excellent quantitative and problem- solving abilities and can get hold of a wide range of rewarding positions in both the public and private sectors. Successful graduates of the course are employed in banking, finance, insurance, and risk-management, besides universities and scientific institutes.
The Top Colleges to study B.Sc mathematics are:
1 Loyola College, Chennai
Loyola College, a Catholic Minority Institution, was founded by the Society of Jesus in the year 1925. The primary objective of the institute is to provide education in a Christian atmosphere for deserving students irrespective of caste and creed.  It is Affiliated to the University of Madras. It is accredited 'A' by National Assessment and Accreditation Council (NAAC)
The College offers 19 undergraduate and 19 postgraduate courses. along with Master of Philosophy and Doctor of Philosophy in the fields of Arts, Commerce, and Science. The College offers B.Sc and M.Sc in Mathematics.
The College is Ranked 2nd among Top 100 colleges in India by National Institutional Ranking Framework (NIRF) in 2017. The College was ranked 6th by the NIRF Ranking 2018.
2. Presidency University, Kolkata

Presidency University is a unique university in India founded in the year 1817 at Kolkata as the first ever in the state for western type higher education in the continent. At that time the name of the college was Hindoo College.
It signed an MOU with the University of Groningen, and Cambridge University, and Trinity College Dublin.
The university offers multiple undergraduate and postgraduate programs in English, Bengali, Sanskrit, History, Geography, Chronology, Astronomy, Mathematics, Chemistry, and some other science subjects
Admissions to the Presidency University are conducted through common entrance examinations conducted separately for UG and PG courses by WBJEE. For UG courses (B.A. / B.Sc. (Hons.)), the entrance exam conducted is PUBDET whereas, in the case of PG courses (M.A. / M.Sc.), it is PUMDET. Shortlisted candidates are then called for counseling by the university.
3. Fergusson College, Pune
Fergusson College (FC), Pune was established in 1885 by Deccan Education Society (DES). The college is affiliated to the University of Pune and accredited by NAAC with 'A' grade. The primary aim of the DES has always been to offer education at affordable cost and spread enlightenment by self-reliant efforts with a view to realizing the highest aspirations and ideals of the people for better future of the country. Fergusson College Admission is Merit or Entrance based.
Fergusson college provides Undergraduate Courses namely Bachelor of Arts and Bachelor of Science, they offered B.Sc in various fields including Mathematics and:
Animation
Biotechnology
 Botany
Chemistry
 Computer Science
 Electronic Science
Environmental Science
Geology
Microbiology
Physics
Statistics
Zoology
Some of the Postgraduate Courses which are offered by the college are Master of Arts and Master of Science in various fields including Mathematics. M.Sc. is offered in basically 11 specializations namely Analytical Chemistry, Biochemistry, Biotechnology, Botany, Computer Science, Electronic Science, Environmental Science, Geology, Microbiology, Organic Chemistry, and Physics.
4. St. Stephen's College, New Delhi
Founded on 1 February 1881, St. Stephen's is the oldest college in Delhi. It was first affiliated to Calcutta University, and later to Punjab University. Finally, with the establishment of Delhi University in 1922, it became one of its three original constituent colleges. It aims at helping its members realize spiritual and moral as well as intellectual and aesthetic values.
It was ranked 2nd among top 100 institutions in India by National Institutional Ranking Framework (NIRF) 2018. The Alumni of the college include IPS/IAS/IFS Officers, Authors, CEOs, Editors and Journalists, Sr. Advocates, Supreme Court Judges and Ministers
The College offers B.Sc honors in Chemistry, Mathematics, and Physics and offers M.Sc in Operational research, Chemistry, Mathematics, and Physics.
5. Madras Christian College
Madras Christian College (MCC), Chennai established in 1837 as a School in the black town of Madras. The Institution was built and its character shaped by a host of Scottish missionaries such as Anderson and Miller, Hogg and Boyd. Many dedicated Indian teachers, as well as generations of brilliant students, contribute to its success story. The college is known as much for its academic standing and leadership building as it is for social commitment.
It is a matter of pride that the institution is ranked among the Top Ten Liberal Arts and Science Colleges in India and also received the Rating of A+ (equivalent to 90-95%) by the National Assessment and Accreditation Council (NAAC).
The Institute follows Choice Based Credit System. It also Signed 15 MOUs with various educational institutions around the world, and many more for students exchange program.
The College offers B.Sc and M.Sc in Mathematics and various other fields. It offers B.Sc in:
Chemistry
Geography
Microbiology
Physical Education
Physics
Zoology
Plant Biology and Biotechnology
Statistics
Visual Communication
6. Christ University
Christ University is a deemed private university. It is the first indigenous Syrian Catholic religious congregation in India. The University is specifically known for its undergraduate courses and has ranked among the top ten for UG courses in surveys done by the India Today group. Every year, more than 16000 students enroll in various UG and PG programs offered at Christ University. Admission will be based on entrance exam conducted by the university exception MBA.
The College offers various combinations of subjects which include:
B.Sc in Physics, Chemistry, Mathematics
B.Sc in Economics, Mathematics, Statistics
B.Sc in Physics, Mathematics, Electronics
The College also offers M.Sc in Mathematics.
7. St. Xavier's College, Mumbai
St. Xavier's College is an autonomous institute, started in the year 1869 under the name of Spanish saint 'Francis Xavier'. The institute is designed in Indo-Gothic architecture. It is affiliated with the University of Mumbai. The college offers UG, PG, certificate and diploma courses in the field of Arts, Science, Business and Commerce
St. Xavier's College, Mumbai, is affiliated to the University of Mumbai. The college was awarded 'A+' grade by National Assessment and Accreditation Council (NAAC). It offers undergraduate and postgraduate degrees in Arts, Science, Commerce, and Management.
The registration for all programs is done through both online and offline mode. Those who wish to apply can submit the application form on official website of college as well as they can download the same.
The College offers B.Sc in various specializations which include:
Mathematics
Biochemistry
Botany
Chemistry
Computer Science
Economics
Geology
Life Sciences
Microbiology
Physics
Statistics
8. St. Xavier's College, Kolkata
St. Xavier's is a Private College located in Kolkata, West Bengal. The University was established in 1860 by Catholic Minority Religious Body (A Society of Jesus). It is a 157 years old Institution that offers Undergraduate, Postgraduate, Ph.D. and various diploma and certificate courses to the students.
St. Xavier's offers Specialization in Four Disciplines at the Undergraduate level, two disciplines at the postgraduate level and three disciplines at the Ph.D. level. The University also offers B.Ed and Integrated M.Sc course to its candidates.
The College offers B.Sc in various disciplines which include:
Mathematics
Chemistry
Computer Science
Economics
Microbiology
Physics
Statistics
9. Presidency College, Chennai
Presidency College, Chennai was established on October 15, 1840. College was established as the Madras Preparatory School on October 15, 1840, and later, upgraded to a high school and then, graduate college, the Presidency College is one of the oldest government arts colleges in India. It is one of the two Presidency colleges established by the British in India, the other being the Presidency College, Kolkata.
This government educational institution in Higher Education can be called "The Light House of entire South India on Higher Education and Research. The schools grew into Presidency College. When the University of Madras was founded in 1857, Presidency College was affiliated to it.
The college was ranked among the Arts and science colleges in Tamil Nadu in the year 2007 and the award was presented by the Honorable Chief Minister of Tamil Nadu on 18th September 2008. In March 2005, National Assessment and Accreditation Council reaccredited the college and awarded the grade "A".
The College offers B.Sc and M.Sc in various disciplines which include:
Mathematics
Advanced Zoology and Biotechnology
Chemistry
Geography
Geology
Physics
Plant Biology and Plant Biotechnology
Psychology
10. Oxford College, Bangalore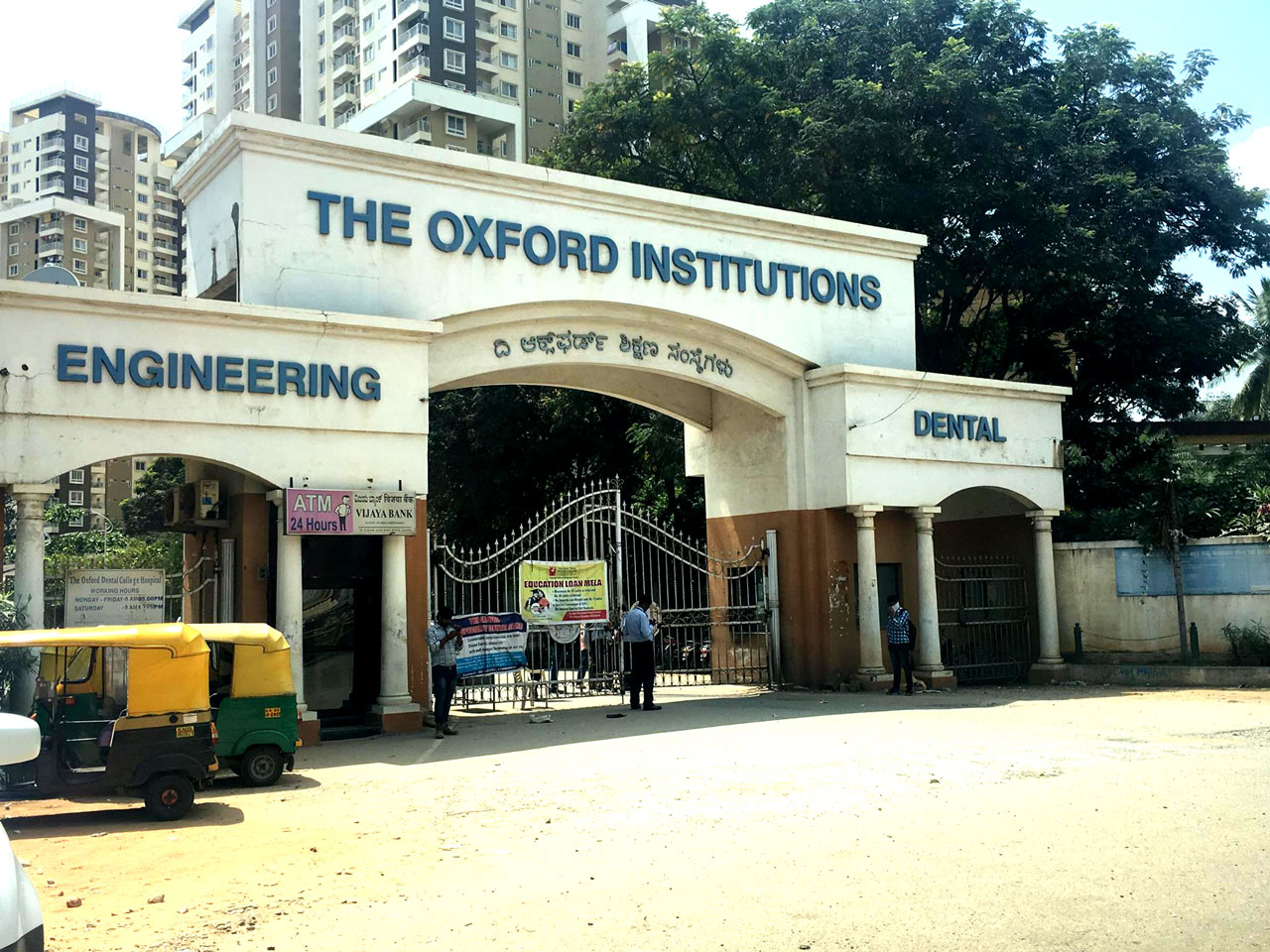 The Oxford College Of Science is a degree college located in Bangalore, Karnataka. It is a part of Oxford Educational Institutions. The college was established in 1994 with 12 students and now it has grown to 3000 student strength. The college is affiliated to Bangalore University. The college is recognized by UGC and accredited by International Accreditation Organization (IAO). The college offers undergraduate and postgraduate courses in Science. Apart from academics, a major part of the student life on campus revolves around extra-curricular activities. Sports and Cultural activities have always been an integral part of The Oxford College of Science.
The College offers B.Sc in Mathematics combined with other subjects, the combinations are:
B.Sc in Statistics, Mathematics and Computer Science
B.Sc in Electronics, Mathematics and Computer Science
B.Sc in Physics, Mathematics and Computer Science
The College also offers M.Sc in Mathematics.
These were the top 10 colleges for pursuing Undergraduate (B.Sc) in Mathematics.
M.Sc
Postgraduation in mathematics is equally important, postgraduation in mathematics is a degree called M.Sc in Mathematics. M.Sc. Mathematics is a postgraduate programme of two years, subdivided into four semesters. The main objective of this course is to give first-hand knowledge in advanced applied mathematics and forefront research experience.
The basic eligibility criteria set for M.Sc. Mathematics course is a Bachelor's degree in any discipline with mathematics as the main subject, from any recognized university or board.
Students in this field can get work in the government sector, financial sector in private firms and Universities. Work profile can be of Actuarial professional, Teacher, Database Manager, and External Auditor.
M.Sc. Mathematics makes sure to provide advanced research skills and provide in-depth knowledge of reasoning and problem-solving skills. It incorporates the foundation of mathematical thinking and teaches both pure and applied mathematics to the core. Students will be taught core mathematical subjects which includes probability theory, theoretical computer science, algebra, number theory, algebraic geometry, global analysis, dynamical systems, differential equations and many more.
The Top 5 Colleges to study M.Sc Mathematics are:
1 TATA Institute of Fundamental Research
Tata Institute of Fundamental Research (TIFR) is a deemed university, located in Mumbai, Maharashtra, which offers a variety of Integrated and Ph.D. programmes. Aspiring candidates can pursue Integrated M.Sc.–PhD programmes and Ph.D. programme in Science Education along with other PG courses.
Interested candidates should visit the official website if they wish to apply through online mode or can send the application form to the address provided.
Candidates applying for Integrated M. Sc.-PhD and Ph.D. programmes will have to appear for the GS exam in 2nd week of December, results for which will be declared in last week of January.
The Institute offers an Integrated Postgraduation program called M.Sc- Ph.D. in Mathematics, Physics, Chemistry, and Biology. The College also offers a Ph.D. program in Mathematics, Physics, Chemistry, Biology, and Computer and System Sciences.
2. Indian Statistical Institute
Indian Statistical is an institute which is devoted to research, teaching, and application of Statistics, social sciences. It was founded by Professor P.S Mahalanobis in Kolkata. It was established on 17th December 1931. It was founded by the exceptionally talented statisticians of India namely P.C. Mahalanobis. It is an Institution that gives an analysis of quantitative linguistics and language planning for the nation. This statistical calculation is extremely indispensable for the administrative and anthropological framework of the country. It has departments that are highly consequential for the surveys and statistics such as Documentation Research, Economic Analysis, Quality control unit, Informatics Unit and Mathematics Unit. Several visionaries such as  R. C. Bose, S. N. Roy, K. R. Nair, R. R. Bahadur, Gopinath Kallianpur, Pitamber Pant etc., have emancipated the institute to that of national importance.
The Admission procedure involves entrance tests namely GATE. The college offers B.A. and M.A. in Mathematics. The institute also offers:
Master of Library and Information Science
Master of Technology (M.Tech) in Computer Engineering
Master of Science in Quality Management Science
Post Graduate Diploma in Business Analytics
Certificate in Statistical Quality Control
3. Chennai Mathematical Institute
Chennai Mathematical Institute is situated in the famous SPIC IT Park and is a premier educational institution in the country. Being based in the Indian state of Tamil Nadu it is a popular place for study in mathematical sciences for students from all over the country. The Institution came into existence in 1989. Students who are admitted into the university are those who are admitted after first having gone through a very stringent examination that tests their potential in a number of different abilities and mental aptitude.
The College offers
Bachelor of Science Honours in Mathematics and Computer Science
Bachelor of Science Honours in Physics.
Master of Science in Computer Science
Master of Science in Mathematics and Data Science.
Ph.D. in Computer Science
Ph.D. in Mathematics
Ph.D. in Physics
4. Indian Institute of Science Education and Research
IISER Pune (Indian Institute of Science Education and Research, Pune) has been established in 2006 by the Government of India's Ministry of Human Resource Development with the goal of integrating high-quality research with undergraduate teaching.
Each IISER is an autonomous institution awarding its own Masters and Doctoral degrees. The institute provides modern research facilities and classrooms with state-of-the-art instruments and equipment for enhanced academic training experience.
The institute offers courses such as:
Bachelor Science + Master of Science in

Biology
Chemistry
Physics
Mathematics

Master of Science + Ph.D. in

Physics
Chemistry
Mathematics
Biology

Ph.D. in Chemistry/Physics/ Interdisciplinary/Humanities and Social Science/Mathematics/Biology/Earth Sciences
5. University of Hyderabad
Hyderabad University was established in the year 1974 and is a premier institution of postgraduate teaching and research in the country.  It is an Indian Public Research university located in Hyderabad, Telangana, India. The university is accredited by NAAC with 'A' grade and approved by AICTE and UGC. The university offers postgraduate and doctoral programs in various streams. Hyderabad University Admissions is done on the basis of marks secured by the aspirants in the entrance exams conducted by the university itself.
The list of Courses Offered by Hyderabad University consists of M.Tech, M.A, M.Sc, MBA, M.Ed, MFA, MCA etc. In addition to this, the university also runs 5 years integrated courses i.e. B.Tech + M.Tech, B.A + M.A and B.Sc + M.Sc. The duration is different for different courses.
The College offers:
Bachelor of Science +Master of Science in Mathematical Sciences, it also offers BB.Sc +M.Sc in:

Physics
Chemical Sciences
Health Psychology
Optometry and Vision Sciences
System Biology

Master of Science in Applied Mathematics/Mathematics