Action has never been a strong suit of Bollywood movies. An industry that likes to edit the scenes of its movies so that the average viewer won't be bored, can hardly be relied upon delivering an action filled ode without completely butchering it. However, there have been some exceptions to this rule; movies that have taken us by surprise because of their audacious use of action, stunts that is both entertaining and artistic.
Here's a list of some of the best action movies that have come out from Bollywood: 
War, 2019
Directed by Siddharth Anand, this highly entertaining action thriller reinvented Hrithik Roshan's image as the action hero/Greek god who'd once been the obsession of many Indian girls. War was breathless and breathtaking. It took the audience on a world tour of beautiful locations and then dropped them into tense action sequences directed with brilliant stylistic flourishes by Anand. Tiger Shroff, playing Captain Khalid Rahmani, who develops a crush on his senior, Major Kabir (Hrithik Roshan) became the proxy of the audience who were just in awe of Hrithik during the movie.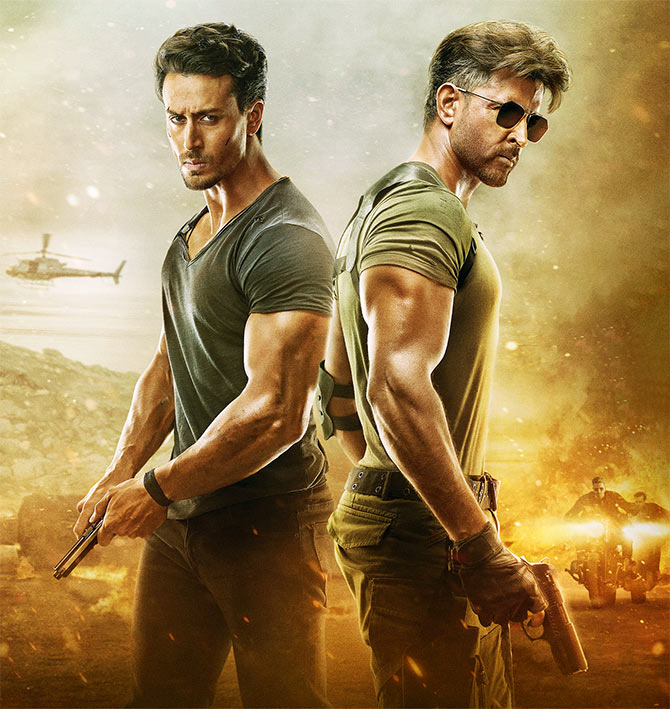 Fan
An ode to deranged hero worship, and Shah Rukh Khan's psychological drama was at once an exploration of what it means to love someone you don't know, and a heart pounding action thriller. Shah Rukh Khan played two roles in the movie; the superstar molded in his own image, Aryan Khanna and his mentally unstable fan, Gaurav Chandna. As the story went into overdrive, the audience were shown an astounding action set piece set in Croatia, with SRK basically chasing himself. And the climactic battle between the two men was staged with intimacy while keeping the blockbuster roots of the genre in mind.
Mard Ko Dard Nahi Hota
Daffy, thrilling, and witty, Mard Ko Dard Nahi Hota was directed by Vasan Bala had contained some of the most awe-inspiring stunts by the leads, Abhimanyu Dassani, and Radhika Madan. It parodied the conventions of superhero movies, and Bollywood cinema of the 70s but also adapted them into its tone. With action sequences choreographed to appear seamless and dreamlike, the movie held the attention of the audience completely.
Krishh
A superhero movie with heart, Krishh was a sequel to the blockbuster science fiction movie Koi Mil Gaya. Directed by Rakesh Roshan and starring Hrithik Roshan, the movie was a breakthrough for Indian cinema because, along with introducing the desi audience with a superhero they could relate with, Krishh had some of the most breathtaking action sequences in Bollywood cinema by then. All the people in the theater halls gasped as Krishh leapt from one location to another effortlessly and fought the baddies with ease. Rakesh Roshan's modern direction helped to make a classic action movie for all ages.
Main Hoon Na, 2004
Farah Khan's directorial debut was an unabashedly goofy tribute the cinema of Manmohan Desai. The tale of scrupulous Major Ram (played by Shah Rukh Khan) who has to go back to college to keep an eye on the daughter of his senior officer. Main Hoon Na was a musical, a comedy, a family drama, romance and more impressively, an action movie. The scene in which Shah Rukh Khan chases an enemy van while driving a rickshaw could've slipped into a parody, but Farah's direction and sense of style kept it from becoming a laughing stock. Similarly, the climactic fight scene between Ram and Raghavan (Suniel Shetty) was tense without seeming overlong.
Ek Tha Tiger, 2012
A spy thriller, a love story and a patriotic drama, Ek Tha Tiger impressed the audiences with its ability to straddle the different genres it was operating in, without ever getting bogged down in a tonal mess. Salman Khan and Katrina Kaif were both ideally cast as the secret agents from India and Pakistan respectively, who have to choose between love and duty. Kabir Khan's direction was unobtrusive, and he gave his leads a lot of opportunities to show off their talents in a more physically brutal story. Car chases, gun fights, and action sequences in which the audience didn't know if they could breathe, Ek Tha Tiger had everything one could ask for from a Bollywood entertainer.
Tiger Zinda Hai
Salman Khan and Katrina Kaif reunited for this sequel that amped up the action quotient to dizzying degrees. The movie was based on the real life 2014 abduction of Indian nurses by ISIL, and showed Zoya (Katrina Kaif) and Tiger (Salman Khan) making a return to the field of action after creating a blissful life for themselves. One particular scene, in which Zoya fends off many enemies set against the strains of "Tera Noor" was both haunting and scarily thrilling to watch. Katrina's performance was incredibly physical while also acting as an emotional anchor of the movie.
Don 2
Suave and elegant as the titular character, Don 2 which was directed by Farhan Khan and starring Shah Rukh Khan, was a sequel of Don, and even lethal this time around. By confounding the expectations of the audience, and slowly building suspense and tension, Farhan crafted a slick thriller that had equal amounts of bombastic action sequences and scenes of dreadful stillness.
Agent Vinod
Sriram Raghavan's Agent Vinod was a tribute to the British James Bond movies. Starring Saif Ali Khan in the titular role, the movie was a globe-trotting tale of espionage, political intrigue and loyalty. An action sequence that was shot in one take, set to the melodious song, "Raabta" is easily one of the greatest cinematic achievements in an Indian action movies this century.