The science fiction genre is still a very untapped area as Bollywood has very few films to offer unlike the Hollywood in this field.
Despite the dearth, the Hindi film industry has been able to create a few gems in science-fiction. So, here is a list of ten Bollywood films which are based on the science-fiction.
Mr. India (1987) – Directed by Shekhar Kapur, this 1987 film is remembered for many things, especially for its memorable villain Mogambo (played by Amrish Puri). It was the last film to be written by the popular writing duo of Salim-Javed. Starring Anil Kapoor, Sridevi and Amrish Puri, Mr. India was the highest grossing Indian film of 1987 and this is the one movie which has remained a cult classic in India. Often included in the Must watch Bollywood film lists, this science fiction gem is a must watch.
2. Ra. One (2011) – One of the most ambitious project of its time, this Shah Rukh Khan starrer, who also co-produced it, gave us another superhero to cheer for. It is directed by Anubhav Sinha, features the title character of a video game antagonist (played by Arjun Rampal) who escapes from the game's virtual world and enters into the real world.
The film was heavy on visual effects with most it was shot on green screens, a new thing for Bollywood at that time. It was later converted into 3D. Made on a budget of 150 crores, it is one of the most expensive Indian film of all time.
3. Robot (2010) – Originally titled Enthiran, this Tamil-language science fiction film is directed by S. Shankar and features Rajinikanth and Aishwarya Rai in the lead roles. It revolves around the struggle of the scientist Vaseegaran after his android robot Chitti goes rogue. However, the project backfires when the robot falls in love with the scientist's girlfriend. It was released theatrically in October 2010 and was the most expensive Indian film at that time. It met with positive reviews from critics with particular praise for the visual effects.
4. Krrish series (2003-2013) – Krrish is one of the most popular superhero film in the Indian cinema. The Krrish franchise consists of three films so far, Koi Mil Gaya, Krrish and Krrish 3. It is directed, produced and written by Rakesh Roshan and features his son Hrithik Roshan in the lead role. The film revolves around a mentally handicapped boy who encounters an extraterrestrial being and later, his son grows up to be a reluctant superhero. All the three films in the franchise have been critical and commercial successes.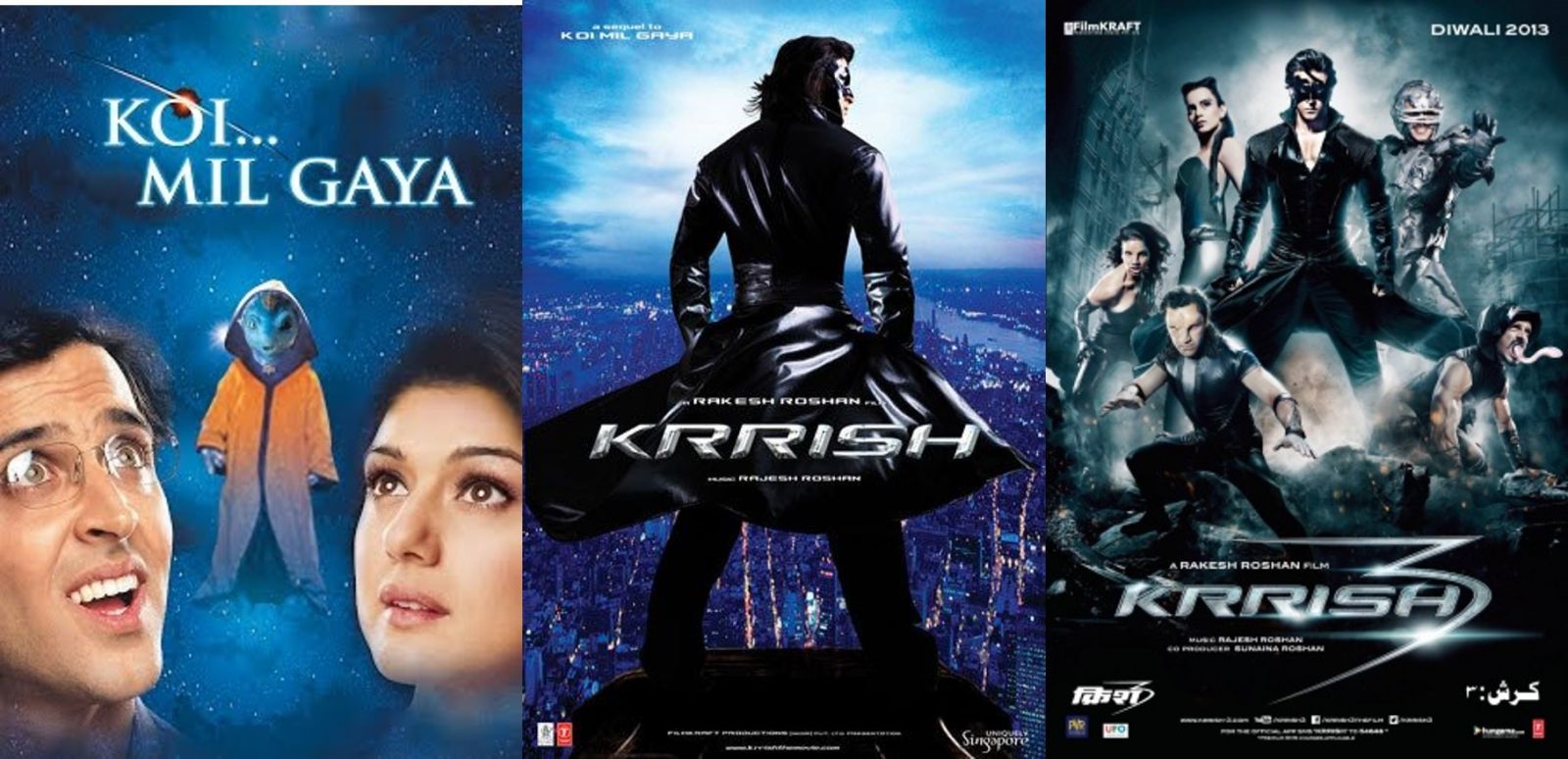 5. Love Story 2050 (2008) – Directed by Harry Baweja, this 2008 sci-fi romance film featuring Priyanka Chopra and debutant Harman Baweja in the lead role. One of the first Bollywood film to explore Utopian time travelling concept, it met with mixed reviews from critics and under performed at the box-office.
6. Action Replayy (2010) – This Vipul Amrutlal Shah-directed feature is a remake of the 1985 Hollywood film Back to the Future. It stars Akshay Kumar and Aishwarya Rai in the lead roles with Aditya Roy Kapoor, Neha Dhupia, Om Puri, Kirron Kher and Rajpal Yadav in supporting roles. The film was released in 2010 during Diwali and met with mixed to negative critical feedback and failed to create an impact at the box-office.
7. Mr. X (2015) – Directed by Vikram Bhatt, this 2015 film follows the story of a man who gains invisibility and seeks revenge from those who had wronged him. It stars Emraan Hashmi and Amyra Dastur in the lead roles and was released in both 2D and 3D formats. Mr. X failed to impress both the critics and the audiences. 
8. Creature 3D (2014) – Directed by Vikram Bhatt, this 3D flick was touted as India's first creature film. The film features Bipasha Basu and Imran Abbas in the lead role. It received mostly mixed reviews from the critics.
9. 2.0 (2018) – The film is a sequel to the successful 2010 science fiction film Enthiran (Robot) and follows a conflict between Chitti and Pakshi Rajan (played by Akshay Kumar). It was made on an estimated budget of 570 crores, making it the most expensive Indian film of all time.2.0 is currently one of the highest grossing Indian film of all time.
10. Mission Mangal (2019) – This Jagan Shakti-directed film is loosely based on the Mars Orbital Mission, also known as Mangalyaan by various ISRO scientists. It stars Akshay Kumar, Vidya Balan, Taapsee Pannu and various other actors as the ISRO scientists. The film was a critical and commercial success.