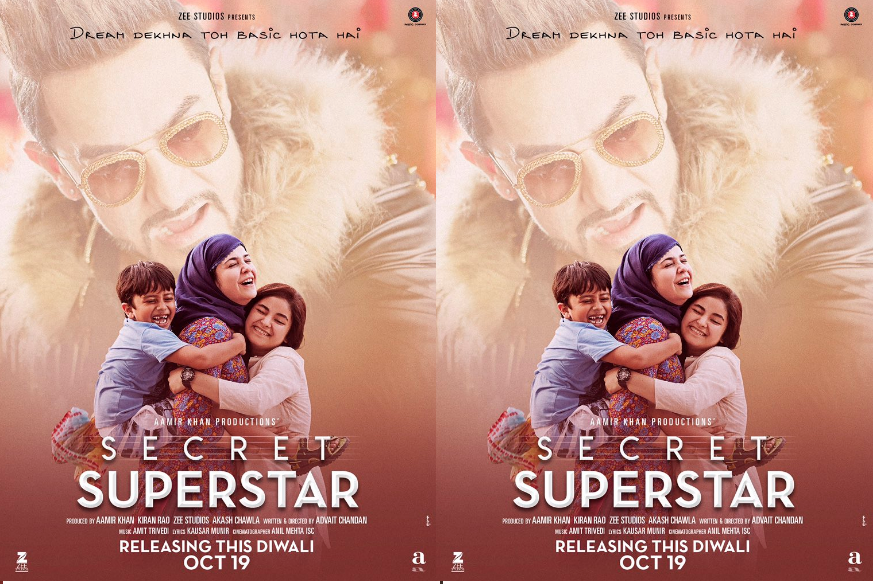 'Secret Superstar' is an upcoming Indian musical drama film which is written and directed by Advait Chandan and produced by Aamir Khan and Kiran Rao. The movie features Zaira Wasim, Meher Vij and Aamir Khan in lead roles.
Yesterday, Aamir Khan released the third poster for his upcoming movie titled 'Secret Superstar' on his Twitter account along with a caption saying, "Our third poster. Love. a. PS: Our second song comes out today at 6 pm."
https://twitter.com/aamir_khan/status/906056422575788032
The movie 'Secret Superstar' will revolve around a teenage girl named 'Insia', she is from Kashmir and she has a dream opposing to her father. Insia is a girl with a passion, she wants her voice to be heard all across the globe. She realizes her dream by wearing a hijab and taking to YouTube to secretly upload her songs. Aamir will play her mentor. About Zaira, Aamir Khan says that she does not have any connection with the music, but she has learned how to play the guitar for the movie just to make the scene more real. Like in her previous movie 'Dangal' she did not have any connection with wrestling, but she trained for wrestling.
Zaira spent a lot of time with the singer Meghna Mishra because she wanted to know how to sing. Zaira and Meghna have even practiced together for the songs and Zaira has even learned how to play guitar for all those songs where she has to play the guitar.
"Secret Superstar" is all set to release on October 19.