Analyst Ming-Chi Kuo, one of the most trusted sources of Apple leaks and rumors who predicted that the company would sell three different iPhones well over a year in 2019 which has proved to be true. And now, he's betting that the first 5G iPhones will be hitting the market in 2020, despite the fact that Apple's original 5G modem supplier Intel is no longer making them anymore (via MacRumors and 9to5Mac).
The report from Kuo states that there will be two high-end iPhones that will launch in 2020 and will come with 5G support. However, in the same report, Kuo also reveals that all the three iPhones that are coming in 2020 will be packed with OLED panel and will be smaller as compared to iPhone XS.
Excerpts from Kuo's research states that:
"We expect that the new 2H20 iPhone lines will include the high-end 6.7-inch and 5.4-inch OLED iPhone models and the low-end 6.1-inch OLED iPhone. The 6.7-inch and 5.4-inch OLED iPhone models will likely support 5G. We expect that the PA usage of each 5G iPhone will be 200% more than the current number for iPhone models. Sole suppliers, including Broadcom (designer) and Win-semi (manufacturer), are the significant winners in this case. […] 

We believe that the content of Apple and Qualcomm's previous settlement includes Qualcomm's release of partly 5G baseband chip source code to Apple for Apple's development of own 5G PA/FEM."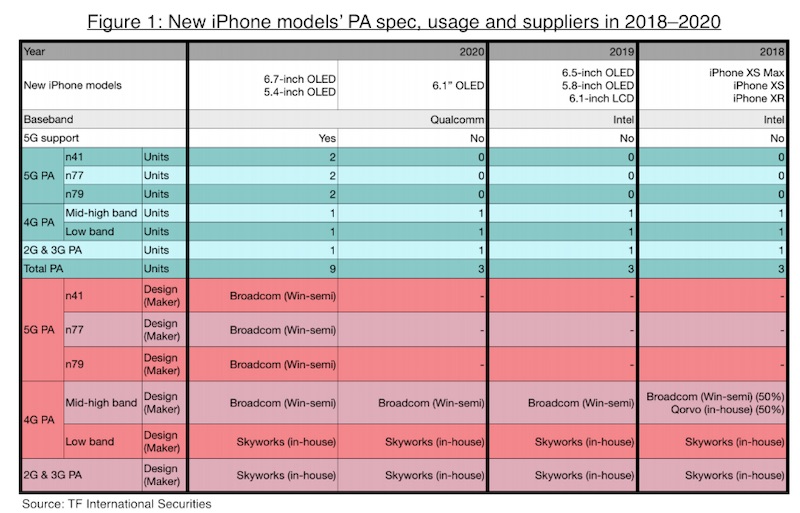 "Apple's 5G iPhone strategy became more aggressive after the U.S. export ban on Huawei," Kuo said. He further says, "We estimate that 5G iPhone will account for around 60% of total new 2H20 iPhone shipments (vs. consensus's 20%)."
Currently, Apple is believed to be working on three iPhones that are to be launched this fall. Apple is expected to launch the new iPhones by the end of September.