Hello! I am sure Hay Day lovers are fending for some tips to boost up the game. Let me tell you, fending stops here, as I am going to list out all the tips and tricks for the game. Make sure you read them well and do not try to implement all at once. Try to get two to three tricks handy first then go for the rest.
So here's what I have for my readers:
Since diamonds are used for buying seeds, it is suggested that seeds are not used up very fast. In Hay day sowing seeds may be lucrative but one must be economical in that. Diamonds are to be preserved. There are a total of ninety-three diamond to be collected in Hay Day. I am sure you are smart and patient enough to watch the Hollywood video clips and ads that come up. It is going to get you one diamond.
Certain crops are slow growing and it is suggested that you plant those slow-growing crops at night. You will be at school. Or, maybe, taking after class lessons or running errands. During these hours too, you can have the game on. The crops will keep growing by the time you rejoin. Make sure the plants are slow growing like that of indigo and pumpkin rather than corn and wheat. Have a good night's sleep while these grow. After waking up all you are gonna do is harvest them.
Roadside Shop is like a boon. The rare items are to be kept to yourself and never to be given to the Roadside Shop, but, in case, you are overloaded with common products like wheat and corn then you may get a little easy on silo by dropping some to Roadside Shop.
I know that you get a little carried away proceeding the game. Avoid that! And try to read the paper to keep yourself updated. Yes, paper is available by the road. Click and Swipe to read. Being aware of the paper will help acquiring special offers.
Taking a roundabout into farms will help in discovering Mystery Box as well as getting extra products. Taking trips to farms is easy. You may visit fields of friends who are connected via Facebook. Or, randomly check up on any field by clicking on option 'people'. Keep clearing the space of your barn and silo as space is very important to proceed in the game successfully. Mystery box may have a diamond. It is always worth opening these boxes.
Making money on the game is the key to making a strong base as a player. Wheat is the answer to it. I recommend that you grow as much wheat as possible. This will enable you to sell crops and get money. With more money you will be in a position to buy extra stretch of land which again makes you a richer farmer in Hay Day.
If you love playing farm games on mobile devices like Android or iOS then playing on big screen can be a great excitement. Check out how to play Hay Day on PC with awesome cinematic visual effects.
A buyer comes to you but the offer is not generous? This can happen a lot of times. Please, do not give in to offers that are not good. Wait for a good buyer. The buyers keep returning and there will be plenty of opportunities in the future.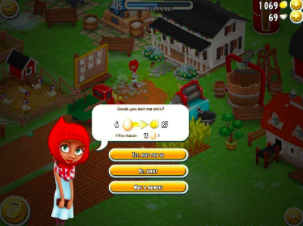 It may not sound like a cheat trick or tip but to keep playing the game as much as possible and have a regular short visit to the game rather than taking long breaks. This way animals and crops are maintained. Make sure you check the updates as Supercell keeps updating the game. This may render some tricks futile.
Hope you make the best use of the tricks I have told you. A gamer must keep looking for new hacks and cheats tricks. While I look up some more and update, you keep playing and enjoy the game. If you get one try do share with me. Have a nice game!