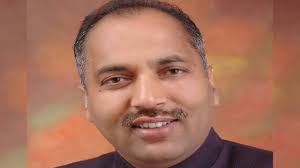 The BJP has centered in on five-time MLA and veteran leader Jairam Thakur as its chief ministerial candidate and a formal announcement to this development is expected on Friday.  Thakur, who won from Seraj assembly constituency, and Union Health Minister JP Nadda were doing the rounds after the party's CM pick Prem Kumar Dhumal lost to Congress' Rajinder Rana by 2,000 votes in Sujanpur.
BJP sources said a two-member team, comprising Union Defence Minister Nirmala Sitharaman and Urban Development Minister Narinder Singh Tomar, would reach Shimla on Thursday to hold informal consultations with senior party leaders, who have already been informed about Thakur being selected as the new CM. A formal meeting of the party, however, is likely to be held on Friday to make the announcement
Including Sitharaman and Tomar, Nadda, Dhumal, senior leader Shanta Kumar and state BJP chief Satpal Satti too would attend the meeting to discuss strategies for government formation. BJP state president Satpal Satti, who too lost the elections from Una, said party in-charge Mangal Pandey would also attend Thursday's meeting. "A decision on new CM will be taken very soon after consultations with the MLAs," he said.
Jairam Thakur, the 52-year-old, emerged as the frontrunner for the CM post after consultations were held by the BJP central leadership in the past two days. Though the decision is likely to pass muster with the state party team, some MLAs will push for Dhumal being made the next CM. An MLA said Dhumal had a major contribution in throwing out the Congress out of power even though he failed to win from his seat.
In the first instance, it looked like Nadda would pip Thakur in the CM race but sources said the party was more inclined to choose from the pool of elected candidates, a view advocated by Shanta Kumar during his visit to Delhi on Wednesday. Recently, a dozen MLAs and Jairam Thakur drove to Dhumal's village and held a meeting for nearly an hour.
The source said the party high command didn't want to send a wrong signal by choosing a leader who would have to contest a bypoll to become a CM as there were several four- and five-term MLAs. Suraj Bhardwaj, a former MP and ex-BJP chief, was also in the reckoning.
He was a minister in the earlier BJP government and barring a bypoll that he lost to Virbhadra Singh's wife (Pratibha Singh) in 2014, he has been on a winning spree in all assembly elections.
Jairam Thakur, BJP MLA from Seraj constituency, was being considered as the frontrunner for Himachal Pradesh's CM post. For BJP, picking up a new leader has been necessitated as its CM face Prem Kumar Dhumal lost elections against Congress rival Rajinder Rana. Thakur, a low profile leader in the state, was a cabinet minister in the BJP ministry.
He has also served as the Minister of Rural Development and Panchayati Raj. Thakur was first elected to Himachal Pradesh Assembly from Mandi and had won his first election in the year 1998. A "gentle BJP face", Thakur has close connections with the RSS and was an ABVP full-time member in Jammu.