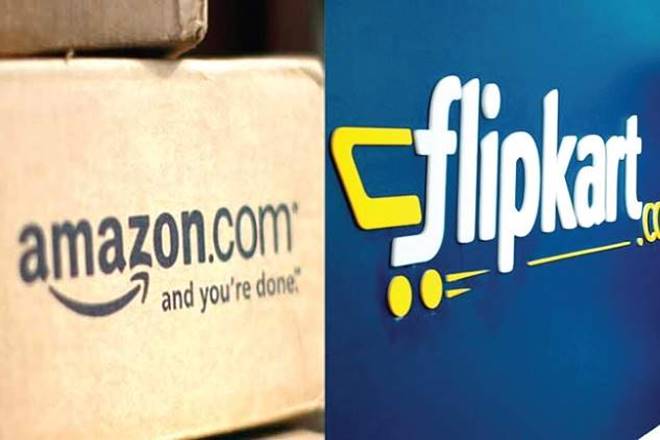 Amazon and Flipkart, both major e-commerce giants, are currently, in a fight ring, competing each other to gain maximum profit in the ongoing festive season in India.
While, RedSeer, a consultancy firm, has carried out a report stating that the six-day ongoing festive sale period offered by Flipkart and Amazon, has generated over $1.8 billion (approx INR 12,759 crore) of GMV (gross merchandise volume), cited Yourstory.
According to RedSeer Consultancy, the consumer sentiment has been bullish and the sale momentum was on the expected lines by Flipkart and Amazon. As in the past, mobiles dominated the festive period sale accounting for 55 per cent of the GMV. There has also been a strong growth in electronics and fashion segment, the report added.
Anil Kumar, Founder and CEO, RedSeer Consulting, said, "The first three days have been a strong success for etailers despite challenging macro environment, indicating that consumer sentiment on online shopping remains bullish. We expect the industry to continue to do well in the remaining days of the sales event and achieve 80-100 percent of the RedSeer forecasted numbers for the whole six-day event."
Flipkart is based out of Bengaluru, founded by Sachin Bansal and Binny Bansal together in 2007. The company initially focused on book sales, before expanding into other product categories such as consumer electronics, fashion, and lifestyle products.
Amazon, on the other hand is an American multinational technology company, based out of Seattle that focuses on e-commerce, cloud computing, digital streaming and artificial intelligence. It was founded in 1994 by Jeff Bezos.
The report by RedSeer had forecasted that sales would touch around $3.7 billion during this period. In this year's sale, the focus has been on the buyers from Bharat, that is consumers in the Tier II & III locations and beyond by both Amazon and Flipkart.
Now, all indications have shown that high share of customers have come from smaller cities attracted by wide selection, offers and fast deliveries.
RedSeer said that customers preferred fashion on Flipkart due to heavy discounts, and electronics on Amazon because of lower price and faster delivery on Prime.
Adding on, the festive sale by Amazon and Flipkart started on September 29, and will end on October 4.