The smartphone market of India increased 17% in the third quarter of 2020 according to International Data Corporation (IDC). It shows that 54.3 million units were shipped during the quarter which is 17% growth in comparison to the third quarter of 2019. It also said that Xiaomi shipped most of the smartphones and saw a 7.1% growth YoY and Samsung came in the second with a significant growth of 38.1%. This growth was mainly because of few restrictions amid the Covid-19 pandemic and more aggressively priced smartphones.
IDC saw that e-retailers experienced an all-time high with 24% YoY growth and shipping 48% of the total 54.3 million units. This was because people were not so confident about personally going to the stores because of the Covid-19 pandemic. Also offline channels increased 11% YoY as new smartphones had to face supply constraints at offline stores. IDC states that the increase in online shopping might increase as companies might offer aggressive pricing and offers at the festive season.
The analysis showcased Xiaomi taking the top spot with most smartphones shipped at Q3 2020 at 13.5 million units. This was a 25% market share resulting at a moderate 7.15 YoY growth. Next in the line was Samsung with 12.1 million smartphones shipped pointing at 22.3% market share and 38.15 growth in units shipped. Vivo followed Samsung at 9 million units and 16.7% market share, Realme with 8 million units and 14.7% market share, Oppo with 6.1 million units and 11.3% market share. Other brands account for 5.6 million smartphones shipped and 10% market share.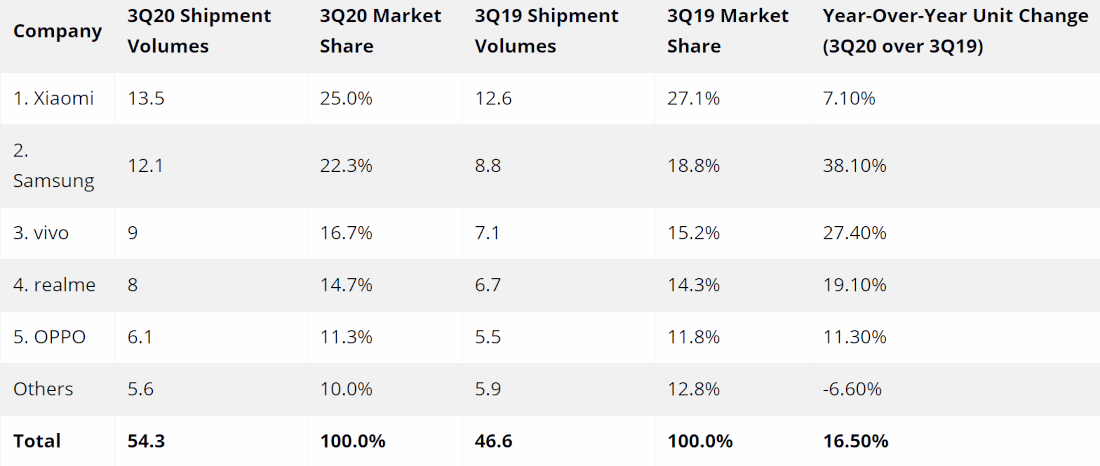 IDC says that this growth is because of few restrictions after lockdowns and increased demand fueled by aggressive pricing. Different sales and discounts on smartphones and ability of maintaining social distance through online stores have encouraged people to shop online.
Regarding the specifications and price trends observed by IDC at Q3 2020, manufacturers introduced a large number of phones with quad rear cameras with 48MP primary sensors or more, above 64GB storage options, larger than 5,000mAh batteries and decreased prices. Around million 5G smartphones were shipped in Q3 2020. In terms of pricing, the average selling price decreased by 2% YoY with 84% shipments in the sub $200 range. This was because smartphones are the only device remaining for internet access for a lot of households in India according to IDC.
The premium segment saw a 91% growth YoY and Samsung, Apple and OnePlus were the top manufacturers. Also, there were 25 million feature phones shipped at Q3 2020 which was a decrease of 30% YoY.