"If someone asks me what cloud computing is, I try not to get bogged down with definitions. I tell them that, simply put, cloud computing is a better way to run your business."
                                                               —–Marc Benioff, CEO of Salesforce.com
Microsoft defines Cloud Computing as the delivery of computing services—servers, storage, databases, networking, software, analytics, intelligence and moreover the Internet ("the cloud") to offer faster innovation, flexible resources, and economies of scale. You typically pay only for cloud services you use, helping lower your operating costs, run your infrastructure more efficiently and scale as your business needs change.
So we can just say that Cloud computing is the on-demand availability of computer system resources, especially data storage and computing power, without direct active management by the user.
Since we are all now clear with the basic definition of Cloud Computing, let's get into details like "Why we need Cloud Computing?", "How Cloud works?", "Types of Cloud Computing" and finally "Top Cloud Computing Service Providers in 2019."
Why We Need Cloud Computing

?
We are seeing technology moving to the cloud more and more every day. It is not just a trend — the shift from traditional software models to the internet has steadily gained momentum over the last 10 years. Looking ahead, the next decade of cloud computing, it promises new ways to collaborate everywhere, through mobile devices.
So why this shift? What exactly does Cloud Computing offers? Why we need Cloud Computing?
Well, Traditional business applications have always been very complicated and too expensive. With the amount and variety of hardware and software required to run them are formidable. You need a whole team of experts to install, configure, test, run, secure, and update them. Here are the six common reasons organizations are turning to cloud computing services:
1. Cost:
Cloud Computing's main advantage is that it eliminates the capital expense of buying hardware and software and setting up and running an on-site datacenter. The services are free from capital expenditure. There are no huge costs of hardware in cloud computing. You just have to pay as you operate it and enjoy the model based on your subscription plan.
2. Speed:
Most of the cloud computing services provide self-service and on demand, so even huge amounts of computing resources can be provisioned in minutes, typically with just a few mouse clicks, giving businesses a lot of flexibility and taking the pressure off of capacity planning thus, saving a lot of valuable time.
3. Global Scale:
Cloud computing offers yet another advantage of working from anywhere across the globe, as long as you have an internet connection. Even while using the critical cloud services that offer mobile apps, there is no limitation of the device being used.
4. Productivity:
Cloud Computing allows your department to be more flexible and collaborative and make available all the latest data so that quotes and forecasts are more accurate. One of the biggest contributors to productivity is the 35-40% increase in productivity that large companies like British Telecom, Best Buy and Dow Chemicals have experienced when allowing employees to work remotely which is possible only with the introduction of Cloud Computing.
5. Scalability:
Scalability can be defined as the ability of any system to accommodate larger loads just by adding resources either making hardware stronger (scale up) or adding additional nodes (scale out). Now, with the Internet of Things, it is essential that software functions across every device and integrates with other applications. Cloud applications can provide this.
6. Security:
Data loss is a major concern for all organizations, along with data security. Storing your data in the cloud guarantees that data is always available, even if your equipment like laptops or PCs, is damaged. Many cloud providers offer a broad set of policies, technologies and controls that strengthen your organization's security posture overall, helping in protecting your data, apps and infrastructure from any potential threat.
Let's get straight onto our next discussion – "How Cloud Works?"
How Cloud Works

?
Cloud Computing is a kind of outsourcing of computer programs. Cloud storage works by enabling users access and to download data on any chosen device, such as a laptop, tablet or smartphone. Cloud storage users can also edit documents simultaneously with other users as well, making it easier to work away from the office.
To understand how exactly cloud computing works, it can broadly be divided into front-end and backend.
The front end will enable a user to access data that is stored in the cloud using an internet browser or a cloud computing software. However, the primary component of cloud computing – responsible for securely storing data and information – is the backend. It will comprise of servers, computers, databases, and central servers.
The central server will facilitate operations by following a set of rules known as protocols. It uses a software, middleware, to ensure connectivity between devices/computers linked via cloud computing. Cloud computing service providers usually maintain multiple copies of the data to mitigate instances of security threats, data loss, data breach, etc.
Types of Cloud Computing

:
Generally, Cloud Computing services are classified into three types: infrastructure as a service (IaaS), platform as a service (PaaS) and software as a service (SaaS). These are sometimes called the cloud computing stack because they build on top of one another.
1. Infrastructure as a service (IaaS): 
Infrastructure as a service (IaaS) is a form of cloud computing that provides virtualized computing resources over the internet. With IaaS, you rent IT infrastructure—servers and virtual machines (VMs), storage, networks, operating systems—from a cloud provider on a pay-as-you-go basis. It is the most basic category of cloud computing.
2. Platform as a service (PaaS):
The Platform as a service (PaaS) service delivery model allows a customer to rent virtualized servers and associated services used to run existing applications, or to design, develop, test, deploy and host applications.
3. Software as a Service (SaaS):
Software as a Service (SaaS) is a method for delivering software applications over the Internet, on demand and typically on a subscription basis. With SaaS, cloud providers host and manage the software application and underlying infrastructure and handle any maintenance, like software upgrades and security patching.
Top Cloud Computing Service Providers in 2019

:
Amazon Web Services is a cloud-based program for building business solutions using integrated web services. Considered as the most robust cloud service platform to date, it contains the most efficient and seamless tools for cloud services.
It has the most varied types of applications present on any other web-based cloud service available in the market web space. It offers services from compute to storage, to database, developer tools, security & compliance, management & governance, along with feature-rich services such as machine learning, cryptography & PKI, robotics, end user management, analytics, application integration, blockchain, media services, business intelligence, Internet of Things (IoT), media services, customer engagement, and many more.
Microsoft Azure is used for deploying, designing and managing the applications through a worldwide network. Launched back in 2010, Microsoft Azure has become a great deal now. Microsoft Azure provides a wide array of solutions suitable for all types of industry.
All your business needs will be taken into consideration. It is highly preferred by many large scale companies for its highly productive intelligent cloud solutions. Microsoft Azure also provides some ready-made solutions for professionals in fields like IOT, AI, Blockchain, big data, data warehousing, management etc.
Google Cloud Platform (GCP) has emerged as a powerful cloud solution over recent years. Google Cloud is a set of solution and products which includes GCP & G suite. GCP includes secure, open, intelligent and transformative tools, and G Suite to help users modernize their organizations for today's digital world.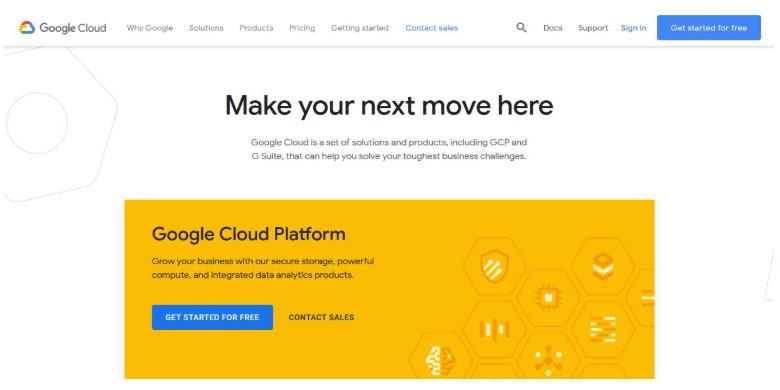 At Google Cloud Next, the company forged many more ties with the hybrid cloud players via an effort called Anthos, outlined its industry efforts and leveraged its artificial intelligence knowhow. It has Multi-cloud, hybrid cloud and on-premises tool support for consistent execution and management. Committed to delivering community-driven, open source technology with flexible pricing and no lock-ins.
IBM Cloud is a set of cloud computing services which the eponymous tech giant IBM offers. The solution offers platform as a service, software as a service and infrastructure as a service. IBM Cloud help innovate, migrate and revolutionize the infrastructure of the organization and optimize multi-cloud environments through technically advanced tools and solutions.
It offers all three platforms as a service i.e. SaaS (Software as a Service), IaaS (Infrastructure as a service) and PaaS (Platform as a Service). It also provides tools for cloud-based collaborations, analytics, testing, business integration and security.
Alibaba is the largest Chinese cloud computing company. A business unit of Alibaba Group incorporates the latest cloud technology and security systems to organizations for building, deploying and managing cloud services.
Alibaba offers a truly comprehensive range of services through its elastic computing, database services, networking, and CDN solutions. It also offers a free trial covering 16 products, while advertising another 20 or more as "always free".
7. 

Rackspace

:
Rackspace is an American managed cloud computing company. It offers services like hosting web applications, cloud files, cloud backup, database, and cloud server, etc.
Rackspace's Cloud Block Storage uses a combination of solid-state drives and hard drives to deliver high and better performance. It works on a pay as you go model meaning you are charged based on your usage.
8.

vmware

:
VMware is a universal leader in virtualization and Cloud Infrastructure. It is part of the Dell Technologies, and it has had traditional data centers. It is an Enterprise-ready Hybrid Cloud Management Platform which offers Private & Public Clouds.
It offers additional integrations with 3rd party and custom applications, and tools, thus providing flexible and agile services. VMware is said to helping to bring AWS on premises.
Salesforce mainly started as a CRM company about 20 years ago and has expanded into everything from integration to analytics to marketing to commerce. Salesforce cloud computing offers multiple cloud services like Sales Cloud, Service Cloud, Marketing Cloud, etc.
Salesforce Service Cloud offers 24 * 7 support. Salesforce Cloud Computing offers all the applications required by businesses like CRM, ERP, customer service, sales, mobile applications, and marketing.
10.

SAP

:
SAP Cloud Platform is an enterprise service with wide-ranging services required for application development. It is a German multinational software corporation.
SAP runs on multiple clouds. SAP Cloud Platform is completely modernizing the working style of enterprises on the iPhone and iPad. It has a powerful business network, cloud collaboration, and advanced IT security services.
Conclusion:
So many major companies are introducing their own cloud services and competition in the cloud-based hosting sector is set to be intense in the coming years. However, in this list I have tried to include the major players in the Cloud market currently and this list of the cloud service provider can prove to be helpful to customers understand their basic requirements and choose wisely as per their budget constraints. Let me know if I have missed any major name by dropping a comment and I will try to include that in my next article.