It will be difficult for Rahul Gandhi to choose the Congress face in Rajasthan, between Ashok Gehlot, his political advisor & Sachin Pilot.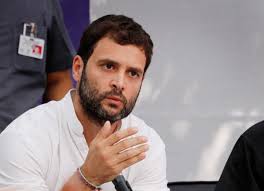 NEW DELHI: It will be do or die for Rahul Gandhi in 2018, as congress president will be leading election campaigns in three states-...
Voting is now underway in 93 constituencies in the North, West & Central Gujarat for the second phase of the Gujarat Assembly Elections 2017.
The latest pre-poll survey conducted by ABP-CSDS, predicts that both BJP's and Congress's vote share now stands at 43 percent.
Congress in its manifesto in Gujarat, promised reservation to the Patidars & minorities, farm loan waiver, cut in petrol-diesel prices & more.
Rahul Gandhi accompanied by senior party leaders on Monday filed his nomination for the post of president of the Indian National Congress.
A day after a row over alleged signature in the non-Hindu register, Congress alleged that Narendra Modi is not a Hindu & has adopted Hindutva.
After Hardik announced the Patidars support to Congress, BJP made remarks to Congress & Patidar leader, calling the agreement a deception.
Clashes broke out between PAAS and Congress members, only hours after the two reached an agreement on reservations to the Patidars.
Find the complete list of 77 candidates declared by Gujarat Congress for the upcoming Gujarat elections.