Home
Tags
Nirmala sitharaman
The Ministry of Defence headed by Nirmala Sitharaman has requested Finance Minister Arun Jaitley to remove the cap of Rs. 10,000 imposed by the...
Jairam Thakur, a five-time legislator, swore-in as the 14th Chief Minister of Himachal Pradesh at the historic Ridge Maidan on 27 December.
The newly elected members of the Himachal Pradesh Assembly on Sunday elected Jairam Thakur as their new leader drafting the way for him to...
A sharp rift emerged between various BJP leaders in HP as central observers met various party leaders & RSS members to select the next CM.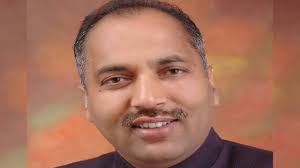 The BJP has centered in on five-time MLA and veteran leader Jairam Thakur as its chief ministerial candidate and a formal announcement to this...
After the defeat of Prem Kumar Dhumal, J P Nadda and senior leader Jai Ram Thakur are in contention for the top post in Himachal Pradesh.
8 Nov marked the 1st anniversary of demonetization, is on one hand being celebrated as a bold move by Modi & being criticised by others.
Nirmala Sitharaman is on a two-day tour to J&K to review the preparedness of the soldiers on borders and security in the valley.
Prime Minister Narendra Modi is likely to once again expand his cabinet of ministers in which JD(U) and AIADMK may get representation.
Nirmala Sitharaman will be the new defence minister after the latest cabinet reshuffle. She was earlier working as the commerce minister.