New Delhi, Sep 7: Chandrayaan-2, India's moon mission, did not go exactly as planned, as ISRO lost its contact with the lander "Vikram" at last few minutes ahead of its soft landing, and about 2.1 kilometres away from the Moon's surface, Vikram went AWOL.
Here's how the world leaders and international media has reacted :
Bhutanese Prime Minister Lotay Tshering said: "We are proud of India and its scientists today. Chandrayaan2 saw some challenges last minute but courage and hard work you have shown are historical."
Bhutan PM Lotay Tshering:We are proud of India and its scientists today. #Chandrayaan2 saw some challenges last minute but courage and hard work you have shown are historical. Knowing Prime Minister Narendra Modi.I have no doubt he and his #ISRO team will make it happen one day pic.twitter.com/AA8B2vXx8o

— ANI (@ANI) September 7, 2019
An American magazine Wired said "All is not lost for the mission" on Chandrayaan-2 Vikram's "deviation from its expected trajectory". It further said, "The loss of the Vikram lander and the Pragyan rover it was carrying to the lunar surface would be a big blow for India's space program … But all is not lost for the mission."
The New York Times (NYT) highly praised India's "engineering prowess and decades of space development have combined with its global ambitions", but termed "partial failure" to Chandrayaan-2 lander's inability to Moon's soft landing.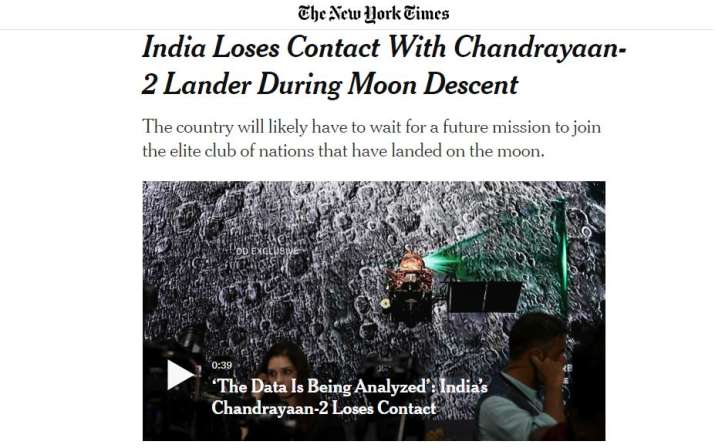 NYT wrote: "An orbiter remains in operation – would delay the country's bid to join an elite club of nations that have landed in one piece on the moon's surface."
French daily Le Monde, in percentage, mentioned Vikram's success rate of soft-landing on the lunar surface. It said, "So far, scientists point out, only 45 per cent of missions aimed at alleviating have been successful."
Planetary Society community, please join us in sending support to @isro on the apparent crash landing of their #VikramLander.

Today marks a chapter in the great story of your space program. We look forward to the next one, and for a successful Chandrayaan-2 orbiter mission. pic.twitter.com/hliW2JjVYs

— Planetary Society (@exploreplanets) September 6, 2019
Al Jazeera Wrote: The landing module of India's unmanned moon mission separated successfully from the orbiter on Monday in the run-up to its planned touchdown on the moon's south polar region this weekend, the country's space agency said.
Khaleej Times wrote: India's first moon lander Vikram is all set to land on the moon on September 7 with Indian Space Research Organisation (Isro) completing the second and final de-orbital operations successfully on Wednesday.
Fox News: India's dream of landing on the Moon is getting closer to reality as its Chandrayaan-2 spacecraft split into two on Monday, with one half set to land on the lunar surface later this week.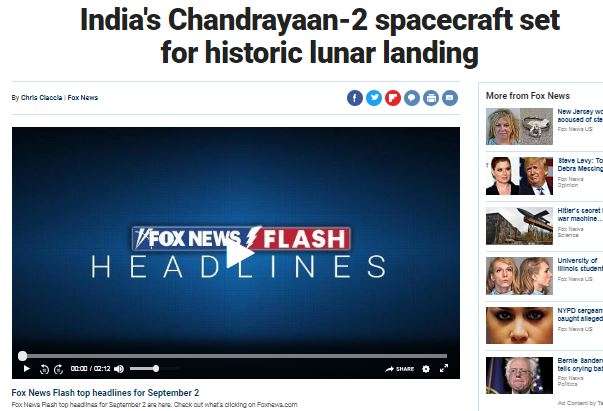 CNN Reaction: India's polar moon mission puts Chandrayaan-2 in the history books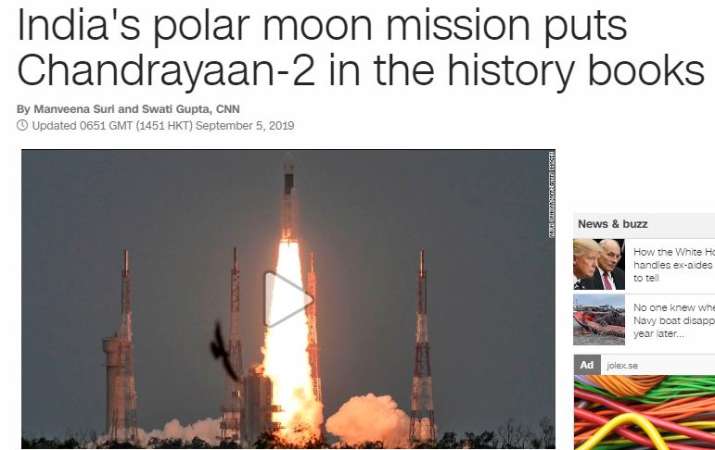 CNN Wrote: India will become the second country after China to explore the far side of the moon. The mission, operated by the Indian Space Research Organisation (ISRO) was launched last month. After more than 45 days it is scheduled to land a rover on the lunar surface on September 7.
"The control room in the city of Bengaluru filled with scientists underwent a visible change as updates from the lander faded. The crowd had celebrated every small step during the controlled descent and at 1:55 a.m. local time on Saturday, the moment the landing was expected to take place, silence descended," CNN reported
BBC Reaction: Chandrayaan-2: The grand ambitions of India's second Moon mission : Costing $150 million, Chandrayaan-2 will carry forward the achievements of its predecessor Chandrayaan-1 which was launched in 2008 and discovered the presence of water molecules on the parched lunar surface.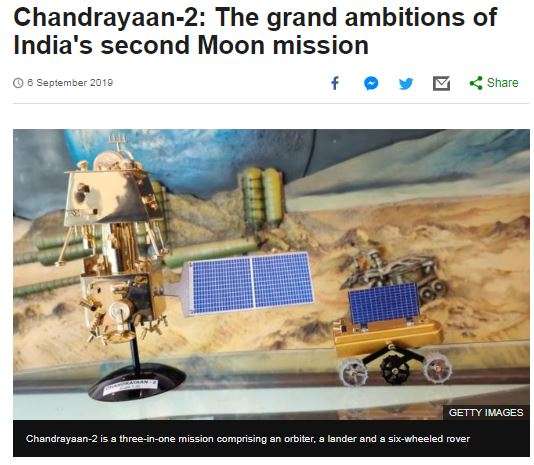 British newspaper "The Guardian", in its article titled "India's moon landing suffers last-minute communications loss" – quoted Mathieu Weiss, an envoy in India for the French space agency CNES, as stating, "India is going where probably the future settlements of humans will be in 20 years, in 50 years, 100 years."
The Washington Post wrote, 'India loses contact with its lander as it attempted to land on the moon' as its header. "The incident could now set back India's growing space ambitions, seen as a reflection of the aspirations of its young population," the article said.
"Of the 38 soft-landing attempts made on the moon, only about half have succeeded… India had hoped its Chandrayaan-2 mission would make it the fourth nation to land on the moon after the United States, Russia and China," it added.