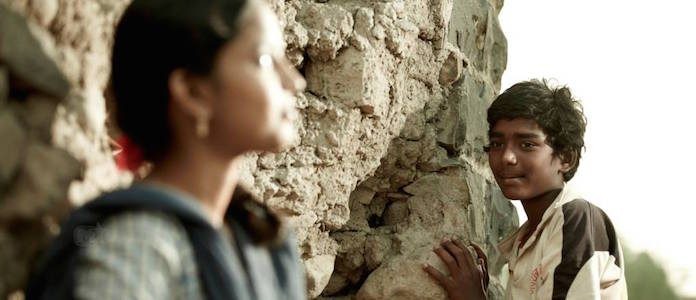 In a new series, Introducing a Film we will be Introducing you to one of our favourite regional films every week, so starting this with 'Fandry' a Marathi film which you'll definitely love. So let's get started.
There's always one movie which remains close to our heart and no matter how many times we watch it, we can't get enough of it. For me, Fandry is one such movie which is really close to my heart. There are lot of things I have learned from this movie. In the total length of around 90 minutes, this film has a lot of things to convey. Jambuwant aka Jabya, the young protagonist, you fall in love with him due to his early teenage innocence. Jabya and his family, being from a lower caste is suppressed by the villagers. But Jabya is unlike the others as he knows when to fight back as he belongs to a new generation.
Jabya is madly in love with Shalu, a girl belonging to the higher caste and from a rich family. His love for Shalu is beyond everything in the world but he is afraid to confess his feelings as it may invite big troubles for him and his family. Hence, he looks out for an easy but superstitious way i.e by hypnotizing her. So he looks out for the rare black sparrow as he believes it's his only option to woo his girl! Here, in the film black sparrow is a metaphor as it states the cruel reality of our society.
While on the other hand, the another metaphor used in the film is of a pig and it should not touch you because it's profane. Jabya is a pig according to the society. He is unaware of the whole reality until the time we are driven to the climax of the film where we see Jabya and his family catching the pigs as it was a job assigned to them. Villagers gather around to have some fun, humiliating the family. Jabya is seen hiding from them specially from his school mates.
In a scene where Jabya is close to killing a black sparrow, a pig hits him and passes by which gets him back to his real world. What adds to his disappointment, is when he watches Shalu also watching the whole scenario and getting entertained. At the end and closing scene, Jabya throws a stone which covers the whole screen which is kind of a question to the society that for how long can we be so cruel?
So now we have introduced you to Fandry, watch this film for an unforgettable experience and let us know your views. Meanwhile stay tuned to The Indian Wire for more such articles.