Just a few days before the birthday of the man behind India's first Indigenous satellite Aryabhatta– Udupi Ramachandra Rao, DRDO India has successfully launched a demonstration flight based on SFDR(Solid Fuel Ducted Ramjet) technology from Integrated Test Range (ITR) Chandipur, Odisha.
SFDR is a kind of missile propulsion technology that has been jointly developed by India and Russia for enabling the long range air-to-air missiles with higher average speeds.
DRDO began developing this technology first in 2017 and had conducted successful tests in 2018 and 2019 as well.
The High Energy Material Research Laboratory (HEMRL) has developed the nozzle-less booster that has been used during the flight test(air-launch scenario simulation).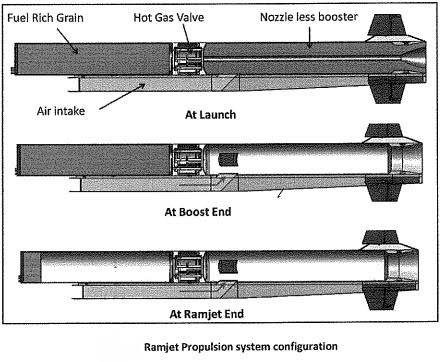 Along with this launch, India has marked its entry into selected club of nations that use next-generation missile technology against manoeuvring targets, compromising the basic effectiveness of conventional missiles.
Even the Missile powered by SFDR can fly at supersonic speeds and high manoeuvrability ensures the target aircraft cannot get away according to a report by the International Institute for Strategic Studies (IISS).
But Ramjet have not proven to be effective at hypersonic speeds.
Technology basics:
It is based on a solid fuelled air-breathing ramjet engine.
Unlike the other solid-propellant rockets, the Ramjet takes up oxygen from the atmosphere during flight without the need of cylinders.
For more, click here.
Thus, it is light in weight and can carry more fuel making it more efficient as it utilises the plenty of Oxygen available in the atmosphere.
Capturing the mission data:
The performance was being constantly monitored during the flight using the data captured by electro optical, radar and telemetry instruments deployed by ITR and confirmed successful demonstration of the mission objectives.
The missiles which use such system are also able to carry larger payload due to absence of an oxidiser unlike solid-propellant rocket as  they need oxygen to be extracted during flight.
Another DRDO Sindhu Netra satellite was successfully sent to space. It has the capability of automatically identifying the warships from amongst the merchant ships operating in the Indian Ocean Region, providing enhanced National security.
Innovation is the key to a better future. Let's keep our faith in oneself intact and soar high with dreams in the darkened skies.