Home
Tags
Prem Kumar Dhumal
Jairam Thakur, a five-time legislator, swore-in as the 14th Chief Minister of Himachal Pradesh at the historic Ridge Maidan on 27 December.
Jairam Thakur, the to be CM of Himachal said that all decisions taken by the outgoing Congress, 3 months before the MCC would be reviewed.
The newly elected members of the Himachal Pradesh Assembly on Sunday elected Jairam Thakur as their new leader drafting the way for him to...
A sharp rift emerged between various BJP leaders in HP as central observers met various party leaders & RSS members to select the next CM.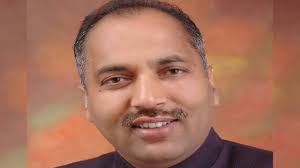 The BJP has centered in on five-time MLA and veteran leader Jairam Thakur as its chief ministerial candidate and a formal announcement to this...
After the defeat of Prem Kumar Dhumal, J P Nadda and senior leader Jai Ram Thakur are in contention for the top post in Himachal Pradesh.
Himachal Pradesh recorded its highest polling in assembly elections on 9 Nov with 74 percent of voters exercising their franchise.
Voting begins in the 68 assembly seat HP today, with Virbhadra Singh as the Congress CM face & Prem Kumar Dhumal as BJP candidate.
As Himachal Pradesh votes for a new government, we bring a list of facts that you need to know about elections in the hill state.
Ahead of the polling for assembly elections in HP, the people are busy carrying out a practice that sees religion dictate regional politics.